In a Tizen Developer Summit 2015 at Bangalore, India Samsung has unveiled some of the features in its upcoming Tizen 2.4. It is a mobile operating system developed inhouse by the manufacturer.
The current version in talks is Tizen 2.4 which will have better than before sign-up features. The improved feature will include SSO (Single Sign On) and phone-based automatic certification. This seems to be similar to Android wherein Google account which is bind to your handset with some of the apps wherein it is required for registration. This is the same OS which is expected to house upcoming Samsung Z3 and was already housing Samsung Z1. In India, Samsung Z1 is the first Tizen based smartphone.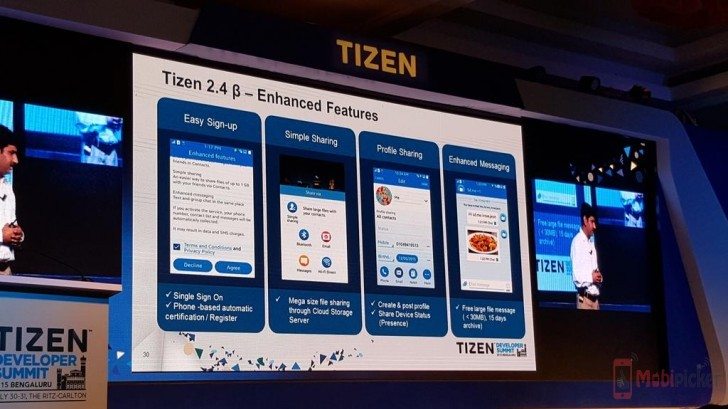 Like Android, Tizen will imitate the sharing menu which has been since long missing and desired feature. Apart from that users through cloud storage will be able to share large sized files.
In Tizen 2.4, support for navigation features such as routing, point of interest and geofencing will be introduced. Also you will be able to create a phone profile which can then be shared with your near and dear ones for sharing your current geolocation which is now a basic feature in any mobile messaging application.
Users can now send files up to 30MB for free and these will be stored on the cloud for a fortnight. In addition to this there are certain other changes which will reduce the launch time of applications, enhanced security and simplification. However, not many details are divulged yet on this by Samsung.
There is a possibility of newer version of OS named as Tizen 3.0 coming in late 2015 or early 2016. There are hints; it will provide support of multiple user use users on a single device, 64-bit processing capabilities and above all in-built Internet of Things framework.