Samsung created quite a buzz in the market with the release of Chromebook 2. It was received well by people and is very highly rated. Last month, Samsung announced the successor of Chromebook 2 at CES, the Chromebook 3. They didn't specify a release date but now, online retailer Adorama has listed Chromebook 3 on their site and it comes with a jaw-dropping price tag.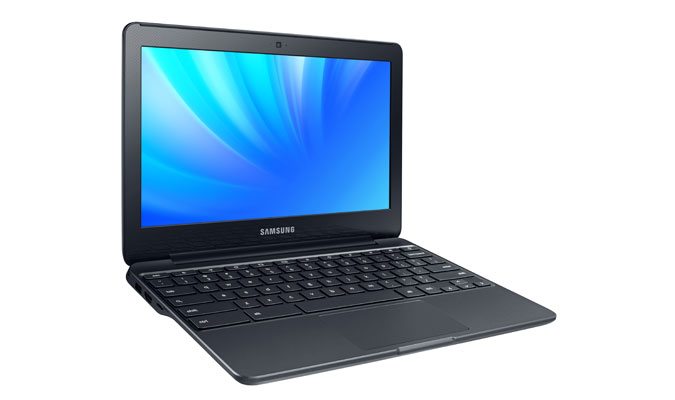 The Chromebook 3 is priced really low at 200$ is all set to be the most affordable offering in the budget category. Aimed at schools and small businesses, Chromebook 3 comes with a highly durable magnesium frame that can take a beating. Specs of the Chromebook 3 are not very impressive, but that simply justifies the price at which it is sold.
It comes with an 11.6-inch matte display with a modest resolution of 1366×768 pixels. The processor used is Intel's entry-level N3050 Celeron Braswell processor along with the onboard Intel HD graphics which can take care of very light graphic intensive applications. There is 16 GB of onboard storage along with 2 gigs of RAM. The laptop runs on Google's Chrome OS, which is a light-weight OS based on Linux.
Other than that it comes with standard features like built-in Wi-Fi chip, Bluetooth 4.0, microSD slot for expansion, a HDMI slot and stereo speakers for better sound output. Samsung claims that the Chromebook 3 can run for 11 hours, but that sounds a bit skeptical. It should run for around 8 hours in real life usage, which is pretty good for such an offering.
With a thickness of 0.7inches and weighing in at 2.5 pounds, Chromebook 3 is light and elegant. At an asking price of 200$, there is nothing that can wrong with this device.