Samsung impresses the speed storage enthusiasts once more with the announcement of its 960 PRO and 960 EVO solid state drives. Possessing the M.2 form factor, and featuring storage based on the V-NAND technology, higher read and write speeds plus better reliability can be expected from both of these drives. Both the Samsung 960 PRO and 960 EVO use the PCIe Gen.3 x4 lane interface and Un-Soo Kim, Senior Vice President of Branded Product Marketing, Memory Business at Samsung Electronics had this to say about the latest solid state drives announced by the company.
"For more than 30 years, Samsung has continued to push the boundaries of what is possible to deliver innovative consumer memory experiences. Our V-NAND technology for NVMe-based storage products is our most recent advancement in the NVMe era. We were proud to erect the NVMe era last year with the introduction of our 950 PRO SSD. Now, with the introduction of the NVMe 960 PRO and 960 EVO SSDs, Samsung is once again taking the next step in the multi-terabyte SSD technology and the storage revolution, providing users higher capacities and speeds than ever before within an NVMe PCIe drive to create new possibilities for consumers and business professionals."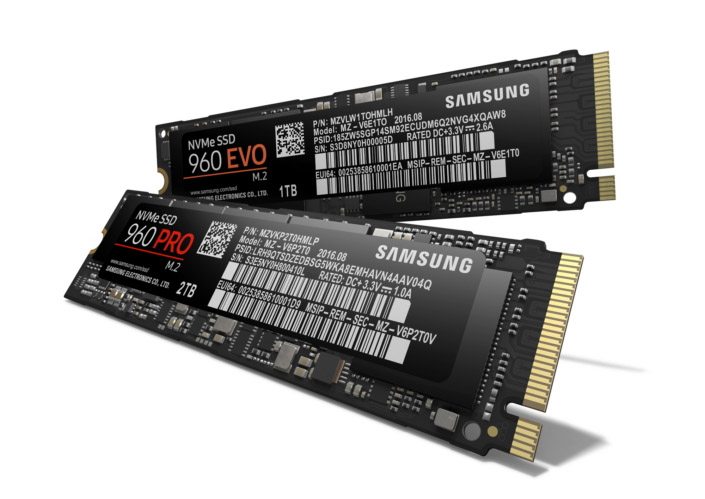 The 960 PRO will be available during the month of October with 2TB of storage as its highest capacity, while the 960 EVO will feature 1TB of storage. If you want to see the peak read and write speeds for both drives, those concerned details have been provided below:
Samsung 960 PRO
Peak sequential read and write transfer speeds of 3500MB/s and 2100 MB/s respectively
Random read and write IOPS of up to 440,000 and 360,000
Samsung 960 EVO
Peak sequential read and write speeds up to 3200MB/s and 1900 MB/s respectively
Random read speeds up to 380,000 IOPS and random write speeds up to 360,000 IOPS
The Samsung 960 EVO will also come with a 3-year limited warranty and up to 400 terabytes written (TBW), whichever occurs first, for the 1TB capacity version. You should know that the 3-year warranty period is not going to be applicable in all regions, so you'll have to check with your nearest retailer on their availability, pricing and of course warranty details. The 2TB version of Samsung 960 PRO will carry a price of $1299 while the 960 EVO will be a much more affordable solution as the 1TB storage model will carry a price of $479.