Psyonix has recently released an update for their critically acclaimed vehicle football simulation title, Rocket League. According to the changelog, the update is massive as it brings some fixes for various sections of the games and some improvements to the gameplay. It also adds some new content to the game.
You can have a look at the full changelog of Rocket League Update 1.11 below and see for yourself what improvements your game will be getting.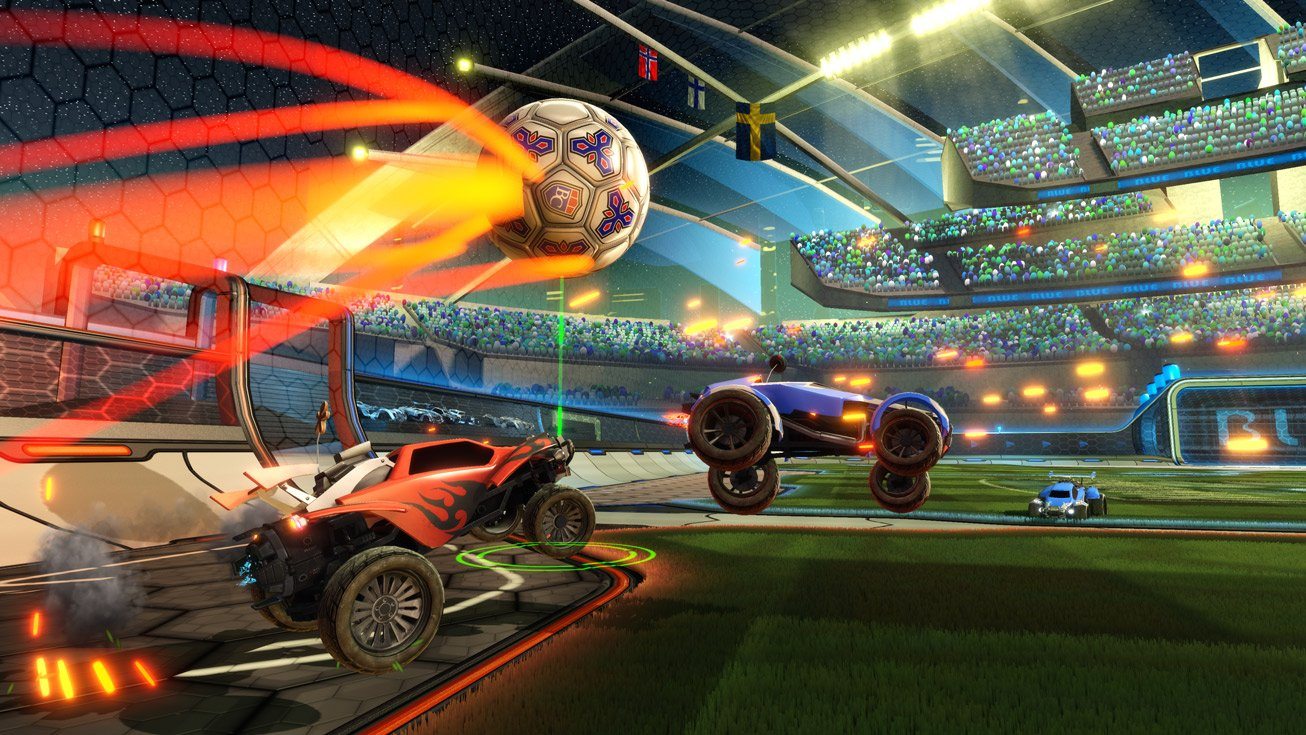 Rocket League Update 1.11 Changelog For PC And PS4:
Ranked play Season 1 has ended and rewards will be given to all ranked participants bronze or above
Ranked Season 2 play has begun (renamed to "Competitive Season 2″)
The "Rocket Labs" experimental playlist is now available for casual Online play
New Item Rarity system introduced, "Common" and "Uncommon" items can now be found after Online matches
"Wasteland" arena has been added to Competitive Playlists
"Snow Day" can now be played in Private Matches
Performance has been improved in multiple Arenas
(BETA) Player Reporting feature has been added
"Quick Chat Only" filter has been added to Text Chat options
Russian and Turkish language support has been added
Multiple outstanding bugs have been fixed
Complete list below…
NEW CONTENT
Antennas
deadmau5
Added "Community Flags"

9GAG
Destructoid
GameSpot
Gfinity
GoldGlove
Operation Sports
IGN
(PC) NVIDIA

Added "Country Flags"
Toppers
CHANGES AND UPDATES
Gameplay
Players who spawn into a match or replace an existing car have a new visual effect (they no longer explode as if they were Demolished)
The "Snow Day" Mutator preset, "Puck" ball type, and DFH Stadium (Snowy) Arena are now available for Exhibition and Private Matches.
General
Russian and Turkish language support have been added to the game
Implemented a server-side data backup system to reduce the chances of a player losing their save data due to corruption
(PS4) General optimization for PS4 to run more reliably.

Turned VSync back on by default but disabled Triple Buffering to reduce input lag. The VSync option still exists for users who want to disable it, but you may experience screen tearing with it disabled.
Online
"Ranked" Playlist has been renamed "Competitive" Playlist

Season 1 has ended! Limited Edition Crowns have been distributed to all participants in Season 1 Ranked Play based on your highest division across all Ranked playlist when Season 1 ends.
Competitive Skill Divisions have replaced Rank Points and the Season 1 Ranking System. There are twelve skill divisions. Over time you can be promoted or demoted between divisions based on your performance.
Top 100 Leaderboards are now based on your skill rating, similar to the Preseason.
Placement matches have been implemented. For each ranked queue, you play ten placement games and are then sorted into a skill division based on your performance.

Ranked Reconnect has been added to the game. Players who lose connection during a competitive rocket league match will now be given the option to reconnect to their previous game.
"Rocket Labs" experimental playlist is now available for casual Online play

A new rotating casual playlist called "Rocket Labs" is now available! Labs features prototype layouts that use temporary art assets. This allows us to release and gather feedback on new designs much more rapidly than we could otherwise.
Three Lab Maps are now available in the "Rocket Labs" playlist and Private Matches:

Underpass
Utopia Retro
Double Goal

New "Uncommon" Item Drops will now be found uncommonly after online matches. This "Uncommon" item quality features all-new Hats and Antennas for you to discover and equip!

Unlike previous seasonal rare drops, these new items don't have a fixed drop chance after each match. Your chances to find an item after a game will increase for every minute you play until you find something, and then your chance will reset.
Uncommon unlocks are only only awarded after a complete game in online playlists (They are not available for unlock offline modes or in Private matches)
Multiple copies of the same "Uncommon" item can be collected, illustrated with a count number in the Garage UI
There is a maximum of ten hours of playtime per week that can earn items, so don't bother trying to idle your way to a full inventory!

(BETA) Player Reporting option has been added and can be accessed via the mid-game menu. You can report players who are being offensive and the full chat log of the match will be submitted along with your report for administrative review.
"Wasteland" arena has been added to the arena rotation for Competitive Playlists
UI/ UX
Players will now see keyframes for Goals, Saves, and Epic Saves on timeline when viewing a saved replay file.
Players can now disable all text chat except Quick Chat by selecting "Quick Chat Only" option in Text Chat dropdown in the Audio menu
(PC) Graphical Options

The maximum framerate of the game can now be increased beyond 60 FPS using the "Max FPS" option under Video Settings
The size of the user interface can now be modified using the "UI Scale" option under Video Settings
Bug Fixes
Optimized performance on Wasteland arena to improve experience for players
Fixed Handbrake performance for Backfire, DeLorean Time Machine, Gizmo, Grog, Hotshot, Merc, Takumi, Venom, X-Devil
Ball Indicator will properly appear in Beckwith Park (Stormy)
Orange Team bots will no longer avoid kickoffs in Beckwith Park
Fixed an issue that caused "Winning is Winning" achievement/trophy to fail to unlock when the requirements were met
Fixed a graphical bug that displayed a shadow-like texture throughout multiple arenas
Fixed an issue that locked chat to Team Chat in the post-game menu
Adjusted the audio volume for "Portal" boosts
Fiji flag updated so it's no longer smaller than other flags
(PS4) Repaired issue that prevented the "PS Nation" Community Flag from appearing in the Garage.
The update is now available for download on PC and PS4.
Rocket League was released for PC and PS4 on July 7, 2015. The game is developed and published by Psyonix. It received popularity shortly after its release. Some days ago, the developers announced that the game will be released for Xbox One on February 17.
Let us know if you're seeing any improvements after this update or not in the comments below.