Riverdale is a brand new TV series, which premiered on January 26, 2017. The series is based on the characters of Archie Comics, but it kind of introduces the modern versions of Archie Andrews, Betty Cooper, Veronica Lodge, Jughead Jones, Cheryl Blossom and Kevin Keller. The first episode of the series was released a few days ago, and fans are now eagerly waiting for the next one to arrive.
Before we get into what will happen in the next episode, here is a short recap of Riverdale season 1 episode 1.
Riverdale Season 1 Episode 1 Recap 
The first episode of Riverdale was titled as "The River's Edge" and in it, the character played by Madelaine Petsch, Cheryl Blossom was introduced. Along with her twin brother, Jason, Cheryl went for a boat ride in the morning. However, only a few moments later, a really worried Cheryl was found looking for her twin brother, as Jason went missing.
Betty Cooper Meets Archie Andrews 
On the other hand, Betty Cooper, the character played by Lili Reinhart, decided to meet Archie Andrews, played by K.J. Apa. Betty was meeting Archie for the first time after summer, and the two decided to meet up at Pop's diner. There, they met the character played by Camila Mendes, Veronica Lodge. For those who don't know, Veronica used to live in New York City and has just moved to Riverdale.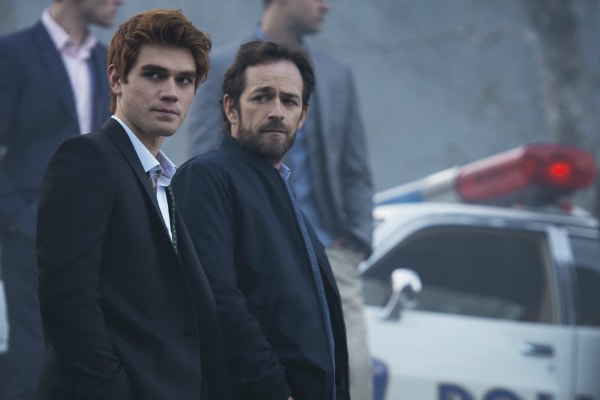 What Betty actually wanted was to reveal her feelings to Archie. However, it was not the right moment to do it as Archie was currently busy with his new-found interest, that was music. It was also later revealed that Archie and Ms. Grundy currently have a secret relationship, so Betty was kind of in a really bad situation. The episode then ended with Jason Blossom's body being found on the edge of the river, and it was revealed that he was shot in the head.
Riverdale Season 1 Episode 2 Spoilers 
The second episode of Riverdale is titled as "A Touch of Evil," and Jason's death is going to be the main focus of the episode. Betty is also expected to fix her relationship with Archie. Currently, everyone in Riverdale is worried sick as a new killer has taken over their town. Jason's sister, Cheryl is going to be the current suspect in his murder, as she was the last person who was with him when he was alive.
Riverdale Season 1 Episode 2 Release Date
Riverdale season 1 episode 2 will be released tomorrow, on February 2, 2017. Let us know if you're excited about it or not in the comments below.