Do you like creepy houses in America? No. Well, how about creepy houses in America but you get to have more ammo for various weapons and herbs at your disposal? Yes? Well, if that's your answer, you should think about Pre-ordering Resident Evil 7 so your experience with the initial portion of the game will be a bit more buffed as compared to those who don't. Here is the complete list of Resident Evil 7 Pre-Order bonus.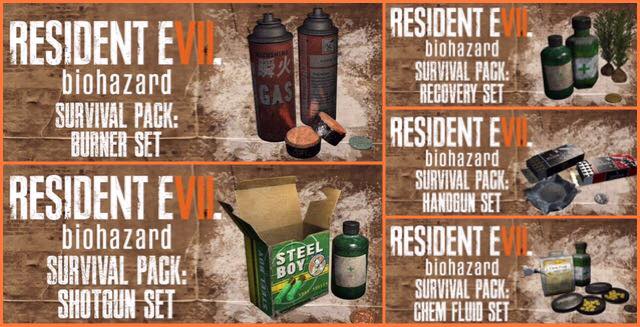 Resident Evil 7 Pre-Order Bonus includes ammo for hand-gun and shotgun and herbs
1. Recovery set – From the screenshots, it appears to include herbs, two green bottles (one smaller than the other, size must be proportional to the amount of healing they provide) and a round tablet (painkillers?).
2. Survival Pack No. 1 – This is the hand-gun set. It includes a hand-gun, some ammo for it in the form of two red and black boxes which probably means it will be different ammo types. There's also gunpowder to help you make some handgun ammo at a crafting station.
3. Survival Pack No. 2 – Includes shotgun ammo and a big green bottle of fluid like in the Recovery Set (so basically more healing buffs).
4. Survival Pack No. 3 – This is the burner set and includes two cans of flammable gas. You will be able to kill you enemies by spraying the cans in their face we guess.
5. Survival Pack No. 4 – This is the Chem Fluid set. It includes two tin packs full of yellow pills, another green healing bottle and a chem fluid plastic pack.
Resident Evil 7 Biohazard is an upcoming survival horror video game developed by Capcom, slated for a release on Microsoft Windows, PlayStation 4 and Xbox One with the PlayStation 4 version including full PlayStation VR support.
Do you like the Resident Evil 7 Pre-Order Bonus? Let us know in the comments. We'll keep you updated with more Resident Evil 7 Pre-Order bonus newsand updates. Stay tuned to MobiPicker.