After falling to the 4th spot earlier this year, Reliance Jio has been flagged as the fastest 4G network in India by TRAI's MySpeed app. The telecom entrant had a slow start but it did pick up well, rising to the top spot, with prolific download speeds.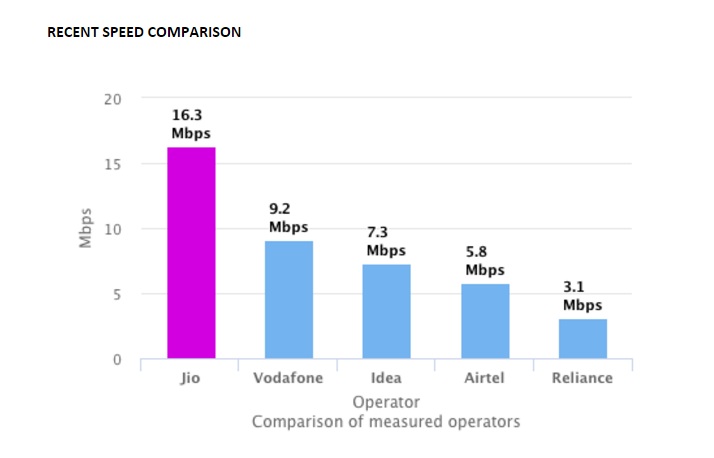 According to the data collected by TRAI's speed testing service, Jio leads the market with the maximum average download speed of 16.3Mbps, followed by Vodafone, Idea, and Airtel at 9.2Mbps, 7.3Mbps, and 5.8Mbps respectively.
TRAI's data also says that Reliance Jio registered an average speed of 17.4Mbps in February 2017, ahead of Idea (12.2Mbps), Airtel (11.2Mbps), and Vodafone (8.3Mbps). However, it's average speed for February is still less than the record 18.1Mbps it registered in December 2016.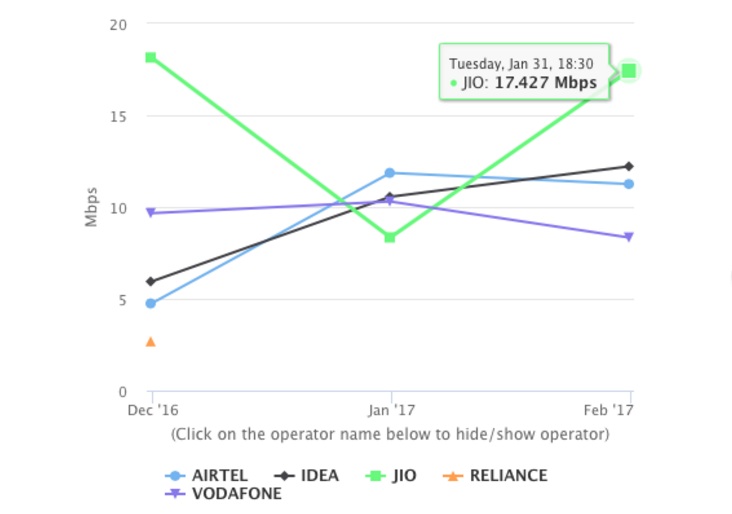 Among others, Idea's average 4G download speed has only seen an upward trend, rising from 4Mbps in December 2016 to 12Mbps in February. Vodafone and Airtel, on the other side, came down slightly last month. Airtel declined from 11.7Mbps to 11.2Mbps, while Voda plunged from 10.3Mbps to 8.3Mbps.
Fastest Upload Speed
Jio's download speed has fueled immensely, but upload is still an issue for the telecom market disruptor. Jio is far slower than Vodafone, Airtel, and Idea in terms of upload. MySpeed cites Vodafone with best average upload speed of 5.2Mbps, while Jio comes in at third with 3.1 (3.06) Mbps.
Paired with enticing data offers, Jio's revived speed will certainly play a big part in luring a big chunk of heavy data consumers. Since the announcement of Jio Prime plans, all major telcos have slashed prices on their bundled data and calling plans – upping the ante against the new entrant. However, Jio, with its pricing and occasional offers, has already made it clear that it won't give up in a battle for supremacy in the Indian telecom sector.