International Data Corporation(IDC) has just released its latest quarterly report about the Indian smartphone market. According to the IDC report, the Indian smartphone market has seen a healthy increase of 17.1 percent in terms of smartphone shipments. Over 27.5 million units of smartphones were shipped in the Q2 and this is a happy revival after a dismal sale in the previous two-quarters.
Not to anyone's surprise, the Korean giant Samsung still rules the Indian smartphone market with an astounding share of 25.1 percent. This astounding share can be accredited to the launch of the updated versions of the Samsung J7, J5, and J2.
The report said, "Samsung continued to lead the Indian smartphone market with 25.1 percent share, registering 10.9 percent sequential growth over previous quarter and 15 percent growth from the same period last year. With updated versions of J2, J5 and J7 released in Q2 2016, J-series devices continue to drive Samsung's shipments."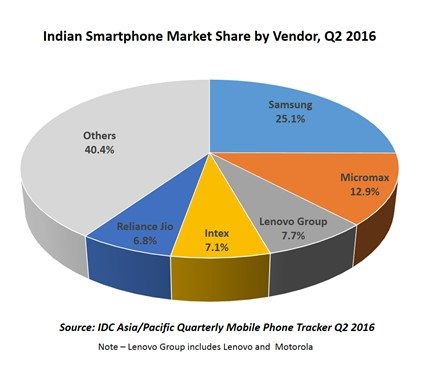 Samsung was followed by the indigenous smartphone maker Micromax with a share of 12.9% thanks to its new devices like Yu Yunicorn and the Canvas 6 series.
The report said,"Micromax retained second position with 19.9 percent growth over the previous quarter. Slew of new launches backed by the new marketing initiatives helped Micromax gain the market share post two consecutive declines in Q2 2016. Vendor has re-gained share in $150-$200 segment with launch of Canvas 6 series and Yu Yunicorn."
The third and fourth position have been secured by Lenovo with 7.7 percent market share and Intex with 7.1 percent respectively. However, the highlight of this report is the fifth position holder in this list, Reliance Jio. Reliance Jio has become a country-wide phenomenon in a very short span of time. Reliance Jio preview offer featuring unlimited 4G internet, VoLTE calls, and SMSes has already become the darling of the masses. The sale of LYF smartphones coming with the Jio Preview offer have sky-rocketed over the past few months and the meteoric rise of Reliance Jio in the sales charts is nothing but obvious.
The report said,"Reliance Jio maintained its position as the fifth largest smartphone vendor with 12.3 percent sequential growth in Q2 2016. LYF devices have entered sub-US$50 segment and bundling introductory offers with Jio services helped it gain strong traction in retail stores."
Reliance Jio has made a great debut in the Indian smartphone market and is faring really well. Let's see what lies in the future of this amazing initiative. Till then, stay tuned.