Even before the Welcome Offer has ended, rumors regarding Reliance Jio introducing charges for the welcome offer are doing rounds on the internet and WhatsApp. The recent scam is that of Reliance Jio Bill that runs to the tune of Rs 27,718 to be precise.
Reliance Jio Bill Scam
The scam is about a Rs. 27,718 bill that a Reliance Jio user by name Mrs. Ayunuddin Mondal from Kolkata received. The bill, as the scam says, was received on the number +917003324437.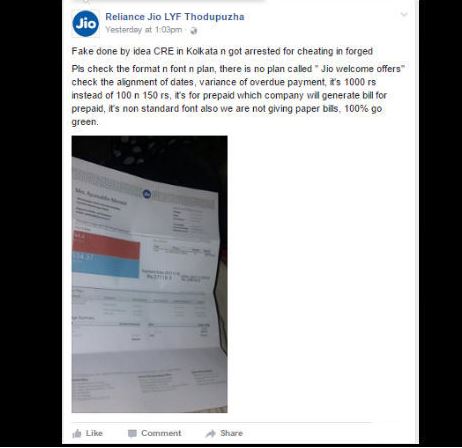 A detailed look at the bill reveals that the due date for payment is November 20, 2016, and imposes a penalty of a whopping Rs 1,100 for delayed payment. Common sense tells you that this is simply a scam. Why would Reliance charge you delayed payment for Welcome Offer, which by definition is free? Why would someone receive a bill for Welcome Offer in the first place, let alone delayed payment penalty? Time and again Reliance Jio has re-iterated that Welcome Offer is absolutely free for all users. Users can enjoy unlimited SMS, calls, and high-speed data until the end of Welcome Offer.
Ignore Messages About This Bill
You may also receive WhatsApp hoax messages, claiming that Reliance Jio will charge you Rs. 27,718 for the Welcome Offer and prompt you to click on the link for more details. Do not click on the link at any cost. The link directs you to malicious websites, which are likely to put your privacy and security at risk. The moment you see such messages, be sure to delete them asap.
No Official Announcement From Reliance
Well, if Reliance Jio had any plans of charging you for Welcome Offer, firstly it wouldn't have called it an "offer" and secondly it would have issued an official statement regarding the same. Since no such statement has been issued so far, it goes to prove beyond doubt that news about the bill is just rumor intended to fool gullible ones.
Do not fall prey for such hoax messages. It's always a great idea to take some time to verify the source of news and do some homework about the authenticity of such news, before sharing and spreading rumors.