Reliance Jio is getting all geared up to expand its horizon beyond the telecommunication reigns. While we know a little bit about the telecom giant testing the broadband services at certain places, there is something else too in its roadmap.
If sources are to be believed Jio is planning to start a Direct to Home (DTH) service very soon. In fact, the company is expected to announce the new venture as soon as March or April this year.
A new set of images showcasing the set-top box has leaked online, courtesy GizmoTimes, revealing the plans for Reliance Jio DTH service. The set-top box will connect to a Jio fiber or dish (confirmation of this is not there yet) that is a part of the package and that will convert the content and show the channels on a TV. One can clearly see a remote control with Jio embossed on the bottom. It contains a Mic button which indicates some advanced voice-activated features. The Reliance Jio STB is different in comparison to other company's offering. It is round in shape opposed to the chosen rectangular design.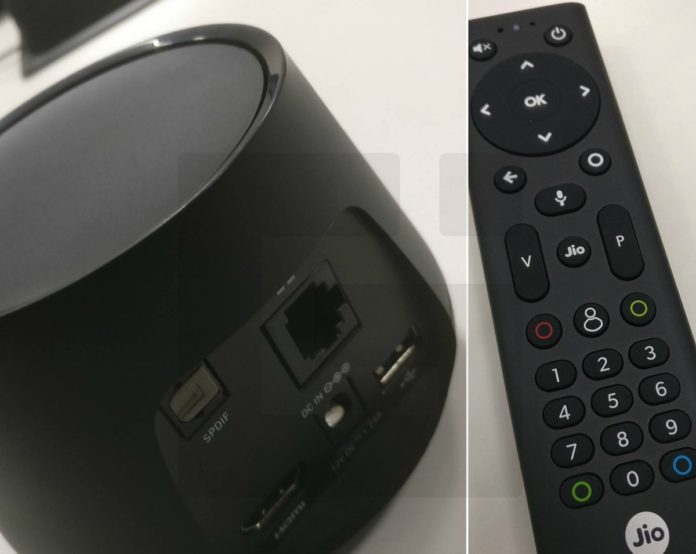 Other notable things in the leaked image are an S/PDIF (Sony/Philips Digital Interface Format) port, an ethernet port, an HDMI port, and also a USB port. That's all the information we have right now. We will update this space once more information is learned about the set-top box or the service.
As stated earlier, the expected launch time for this new service is rumored to be March or April. Even the JioFiber service was rumored around the same time, but still, the service has been only noticed in countable cities. Let's see if Jio is able to bring the new services in expected timeframe or not.
Let us know what you think of Reliance Jio new broadband and DTH services. Will you go for it, if the telecom giant goes for a free model?