After building hype for several months, Reliance Jio 4G VoLTE services have been launched in India. Reliance had started testing 4G LTE network in December 2015 and in the recent past it had launched Jio Preview Offer to attract new customers.
Mukesh Ambani, the Chairman and Managing Director Mukesh Ambani has officially launched Reliance Jio at the Annual General Meeting (AGM) that was held earlier today.
Here are 12 things one should know about the Reliance Jio 4G brings along:
Free Voice Calls
Reliance won't be charging for voice calls ever. Moreover, there won't be any roaming charges.
Unlimited SMS
Except for S (small) plan that provides 100 SMS, all the other plans offer unlimited SMS in all plans. Also, it won't levy excessive charges for SMS sent on special day such as New Year Day, Diwali and so on. There won't be any so called SMS blackout days.
Welcome Offer
Customers who avail the Welcome Offer beginning from Sept. 5 can take advantage of free voice calls, SMS and data until Dec. 31, 2016. This offer also includes bundled apps.
Tariff Plans
Here are the Reliance Jio 4G LTE tariff plans that will go live from January 2017: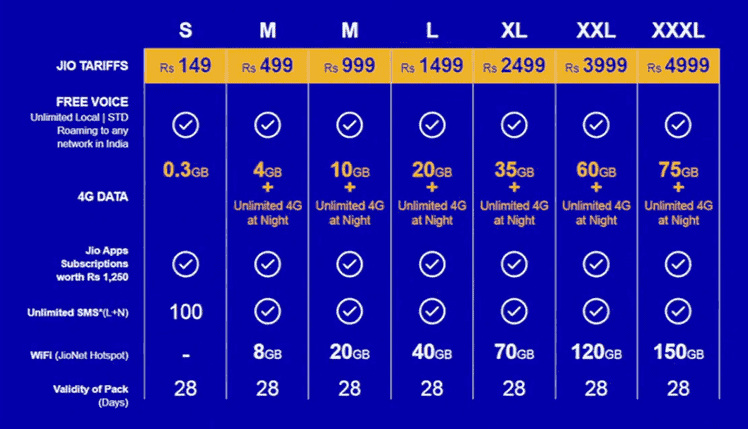 Easy Verification and Activation
It will take only 15 minutes to activate a new connection. The e-KYC system makes it possible to acquire Reliance Jio SIM cards for customers with Aadhaar cards. Currently, this system is only available for subscribers in Delhi and Mumbai.
Concession for Students
Students with valid ID cards can avail a discount of 25 percent on all Reliance Jio 4G tariff plans.
Affordable LYF Smartphones
LYF brand from Reliance offer VoLTE supporting from smartphones with cheap pricing. Smartphones like LYF Flame 3, Flame 4, Flame 5 and Flame 6 all support 4G VoLTE and are priced at Rs. 2,999. Here is a complete list of smartphones that supports Reliance Jio 4G LTE
JioFi Router
Priced at Rs. 1999 with Jio Preview Offer, the Reliance JioFi is a personal router that customers with 2G and 3G devices. Users with devices can make use of highly reasonable 4G services from Reliance without the need of purchasing a 4G LTE smartphone.
1 Million Wi-Fi Hotspots
Reliance will be establishing 1 million Wi-Fi hotspots by middle of 2017. The data plans of Reliance Jio 4G will be available with JioNet Wi-Fi hotspot that will make it possible to use the network across the country.
Huge Network
The Reliance Jio 4G LTE network is capable of supporting VR (Virtual Reality) and AR (Augmented Reality) apps. The Reliance Jio network includes 18,000 cities and towns and it also reached 200,000 villages. It aims to provide its network to 90 percent of India's population.
Ultra High-Speed Broadband
Reliance will soon begin its FTTH (fiber-to-the-home) service that will offer up to 1 Gbps ultra high-speed broadband in select cities. In the coming weeks, it aims to make it available in 100 cities.
High-end Broadband for Enterprise
Reliance has collaborated with prominent technology companies to bring cheap international roaming tariffs along with access to worldwide content, concierge services. It will be revealing information on enterprises in the near future.