It looks like the days of honeymoon are over for Reliance 4G. At least when it comes to 4G speeds, the good old days of 20Mbps+ speeds are now a distant memory. Recent data revealed by Ookla shows that average Jio 4G speeds hit an all-time low in September and the trend is continuing. A report suggests that the mean download speed for 4G capable phones decreased 23% month-over-month, peaking at about 18Mpbs in March 2016 and spiraling downward to 8.7Mbps in September 2016.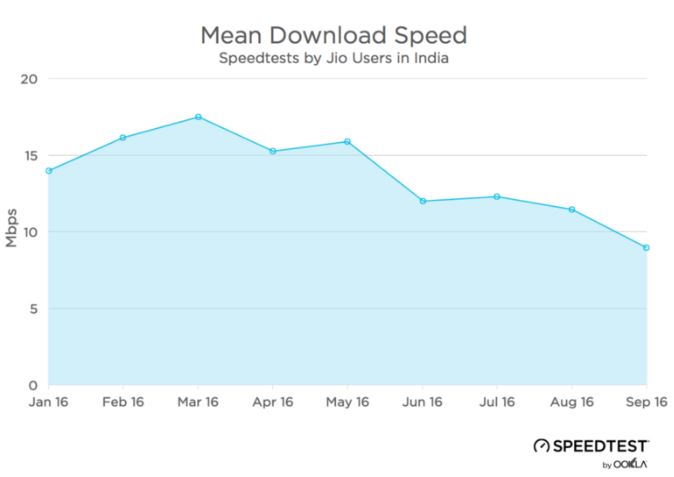 After the September 5 launch, the number of users has increased significantly. And as user base widens it's quite natural for speeds to take a hit. The problem seems to be aggravated by lack of infrastructure support from competitors like Bharti Airtel, Idea Cellular, and Vodafone. Many users have begun complaining about unstable internet connectivity and drastic drop in internet speeds. There are also isolated reports of users experiencing speeds at the extreme end of the bar – speeds as low as 0.5Mbps and as high as 25Mbps.
If you have been experienced very low speeds recently, there are several basic and simple tricks that you can use to improve speeds. We've compiled the list for you –
1. Clear All Background Apps
When was the last time you used that app in the left most corner of your second screen? Chances are that you probably have too many apps installed – some of them may not necessarily be useful now. Or you may have forgotten to uninstall them. Take a quick look at all the apps installed on your phone and immediately uninstall heavy unnecessary apps. It could be that some of these apps silently use data in the background. Deleting such apps will help increase data speed. Alternatively, you can limit the data consumption of the app instead of deleting it altogether.
2. Disable Default Loading of Images
When browsing, images load by default and they consume a significant amount of data. One of the best ways to speed up browsing is to disable browser images. When images are disabled, the text is the only thing left to load, which can be done much faster.
3. Clear Cache
This can often be the single most important factor when it comes to speeds. Clearing cache always helps. There are a number of apps that help you clean cache at the touch of a button – AVG Cleaner, Clean Master, CM Speed Booster – to name a few. Install any of these apps and clear cache. Cleaning cache also improves overall phone speed and you will begin to notice that your phone will not hang as often.
At times, these simple tricks can actually go a long way in boosting internet speeds. Do give these tricks a try and let us know your experiences!