In India, everybody is trying to get their hands on Jio 4G SIM for the sheer speed and access to unlimited SMS, voice and data the SIM provides as part of 90-day preview offer. Initially, Reliance Jio SIM was made exclusively available to Reliance employees and then extended to LYF brand of smartphones. Recently, Samsung and LG brands have also been added to the list. This has got many speculating that Reliance will soon announce Jio plans for all smartphones.
Reports on Twitter claim that Jio SIM can now be freely purchased from the store by anyone who has a 4G smartphone and not just a LYF / Samsung / LG phone. As reported by Indian express, the tweet shows the screenshot of an Excel sheet which claims the preview offer is now open for all smartphones that support 4G. But JioCare has already made it clear that the 4G Preview Offer is only limited to Samsung and LG Smartphones.  The tweet says – "Currently Jio SIM is only available with LYF smartphones & select Samsung models. Stay tuned for future updates."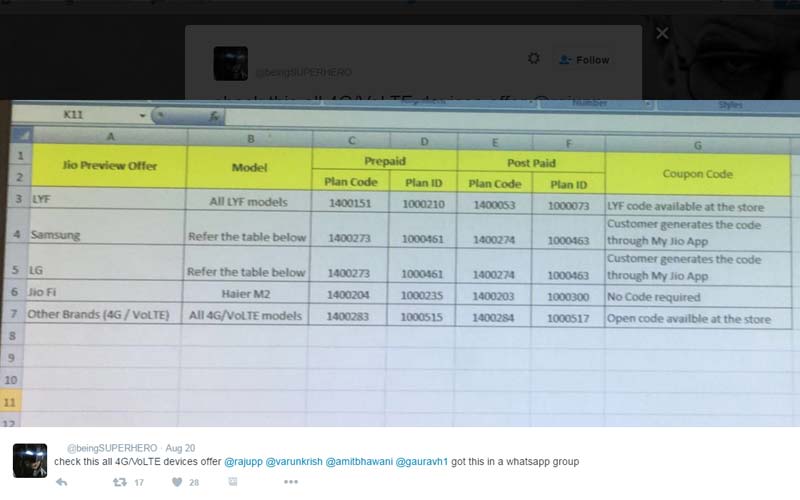 So if you have been expecting Jio 4G on all smartphones, you may be a bit disappointed. It's unclear if Reliance has any plans of extending the offer to brands other than Samsung and LG. There were rumors of Jio 4G SIM preview offer being made available for Apple phones, but as we know it hasn't become a reality yet. Some users were able to run Jio 4G SIM from a LYF smartphone on a Redmi 3S prime and iPhone 6s, albeit for a very short period of time. And we aren't sure if this doesn't cause any damage to the phone. Because a sales representative explicitly told Indian express that Jio SIM should not be run on a non-LYF/non-Samsung/non-LG smartphone.
If you happen to own Samsung/LG phones, all you have to do is –
Download the Myjio app and generate a code.
Visit nearby Reliance Digital or Digital Xpress Mini store with ID and address proof and purchase the Jio 4G SIM.
Once you have the SIM, insert it and head to MyJio app. Tap on Avail Offer and click Submit.
This should automatically install other Jio apps like JioPlay, JioOnDeman, JioBeats and JioMoney.
Call 1977 and complete the tele-verification process.
Once this is complete, Jio Preview offer will become active on your number.
This offer will give users unlimited SMS, high-speed data and free data on Jio apps for 90 days. Recently, as part of Jio offer, Hotstar premium subscription was also included. This gives users access to several paid TV channels like STAR.
LG devices that are part of Jio Preview Offer –
K332 (K7 LTE), K520DY (Stylus 2), K520DY, H860 (LG G5), K500I (X Screen), K535D (Stylus 2 Plus), LGH630D (G4 Stylus 4G) & LGH 442 (LGC70 Spirit LTE).
Samsung 4G compatible devices eligible for Reliance Jio 4G Preview Offer
Galaxy A3, Galaxy A5, Galaxy A5 2016, Galaxy A5 Duos, Galaxy A7, Galaxy A7 2016, Galaxy A8, Galaxy Alpha, Galaxy Core Prime, Galaxy Grand Max, Galaxy J max, Galaxy J1 Ace, Samsung Galaxy J1 Ace, Galaxy J2, Galaxy J2 (2016), Galaxy J2 Pro, Galaxy J3, Galaxy J5, Galaxy J5 (2016), Galaxy J7, Galaxy J7 (2016), Galaxy K Zoom, Galaxy Note 3, Galaxy Note 4, Galaxy Note 5, Galaxy Note 5 Duos, Galaxy Note 7, Galaxy Note Edge, Galaxy S 5 Plus, Galaxy S4, GALAXY S4 4G, Galaxy S4, Galaxy S5 Neo, Galaxy S6, Galaxy S6 Edge, Galaxy S6 Edge Plus, Galaxy S7, Galaxy S7 Edge, Grand Prime, ON5, ON5 Pro, ON7 and ON7 Pro.