The Reliance Jio 4G Preview Offer that started as an exclusive offer for LYF brand of smartphones and now extended to a wide range of brands has taken Indian telecom industry by storm. The Jio 4G commercial launch announcement by Ambani on September 1 has started off tariff wars on a scale never seen in the history of Indian telecom market. People are waiting patiently for days together just to get their hands on Reliance Jio 4G SIM. The response from the mobile users has been overwhelming.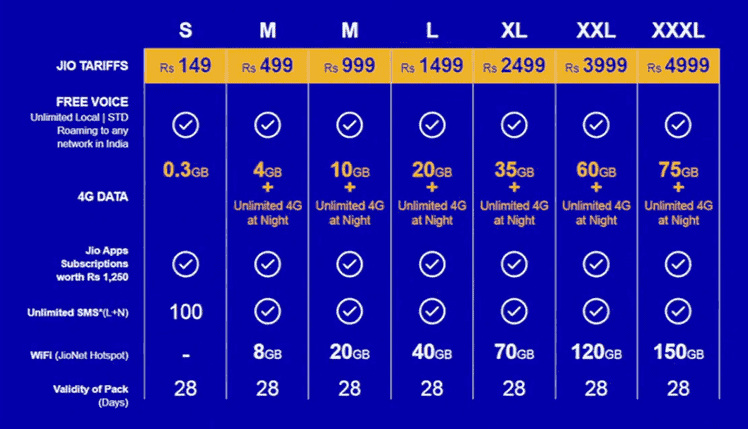 After announcing the details about Jio, including tariffs and others, Reliance has now announced the official data, voice and SMS plans. The plans are impressive and have already started attracting customers in large numbers. The 90-day unlimited data, SMS and HD voice and video call offer have been very well received by many users in India – so much so that demand is now exceeding supply, forcing customers to wait for long period of time before they can get their hands on 4G SIM.
Before you decide to buy Jio 4G SIM, there are a few things you must know. We've compiled the list of top 10 Jio terms and conditions that you should definitely consider before buying Jio 4G SIM –
Voice calls are "free". Or at least that's what you have been made to believe. But you will be charged for the data used while making voice calls. It's after all Voice over LTE and all voice calls must use data.
There is a special section related to Free Wi-Fi data benefit in all prepaid and postpaid plans. The terms and conditions state that the allotment of data under free Wi-Fi is through JioNet hotspots. You have to locate the Wi-Fi hotspots and access from the same location.
Unlimited data during the night sounds too good to be true. And yes it does come with its own terms and conditions. And the terms and conditions clearly state that unlimited data is valid only between 2 a.m. and 5 a.m.
Jio apps are free for now but the data used for these apps will be deducted from your data pack.
Jio apps do not work on non-Jio networks. So you cannot access Jio apps using the broadband connection you have at home.
Though Jio plans start at Rs. 19 and Rs. 129, a new customer cannot use these denominations for the first recharge.
Once you use up all of the allotted data, the charging rates applied will be Rs. 250 per GB. This tariff comes nowhere close to Jio's Rs. 50 per GB promise.
Postpaid users get unlimited data. This too comes with a catch. The speed drops to 128Kbps (yes, a mere 128kbps) once the allotted data is used up.
You only get 100 local and national SMS free per day.
If there is no voice/video call or outgoing SMS or a data session or usage of Value Added Services for a period of 90 days your mobile connection will be deactivated. This is outlined in the terms and conditions for prepaid users –
The account validity will be automatically extended however the mobile connection will be deactivated if there is no voice/video call (outgoing or incoming) or an outgoing SMS or a data session (upload or download) or usage of Value Added Services, for a continuous period of 90 days and in case the main account balance is less than Rs 20 at the discretion of RJIL. Upon deactivation, all account balances will be forfeited and a grace period of 15 days will be provided within which the subscriber can retain the deactivated number by paying a fee of Rs 20. If the subscriber's main account balance is Rs 20 or more, a number retention charge of Rs 20 will be automatically deducted and the non-usage period will be extended by 30 days
At the outset, the tariffs may sound very lucrative and affordable. But the fine details, the terms and conditions must be carefully evaluated before you decide to buy the Jio 4G SIM.