In what comes as a shocker to all Reliance Jio 4G SIM users, Telecom Regulatory Authority of India (TRAI's) recently-launched My Speed website shows that Reliance Jio 4G – with an average 4G download speed of just 6.2Mbps – stands at No. 5 in the list of fastest networks in India.
The new website launched by TRAI allows you to check how the various telecom operators fare when it comes to 4G. We decided to check where Jio 4G actually stands. And the result is surprising – Reliance Jio stands at No. 5 with an average download speed of 6.2Mbps.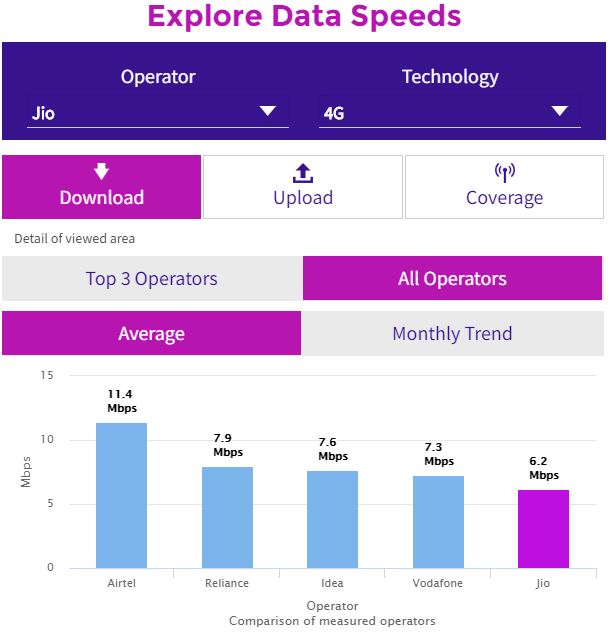 However, Jio's standing varies by region. In Bangalore, the Silicon Valley of India, Jio (4.2Mbps) stands at No. 4 behind Airtel (10.1Mbps), Vodafone (7.8Mbps) and Idea (7.5Mbps).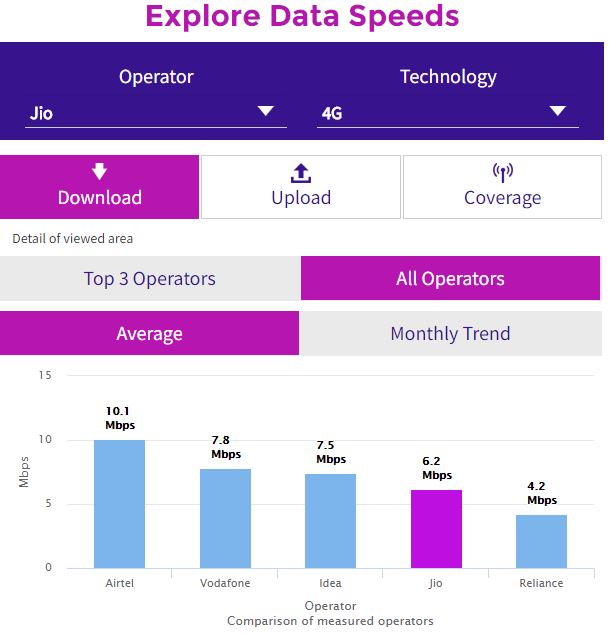 In Mumbai however, Jio fares better and is the second fastest network. Airtel still leads at 15.5Mbps, while Jio comes second with 10.8Mbps. Vodafone (7.7Mbps) and Idea (6.7Mbps) follow at No. 4 and No.5 respectively.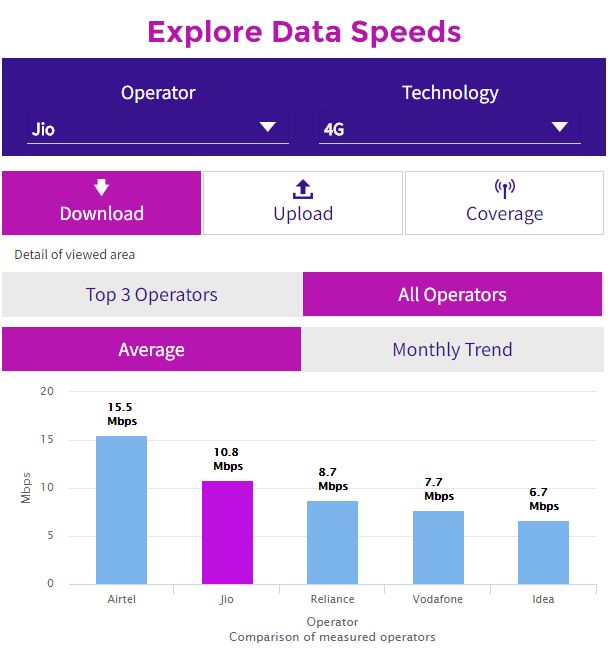 In the capital of India, Reliance Jio stands at No. 4 again. Airtel leads the network battle with 11.1Mbps, while Idea and Vodafone follow next. Jio is close to Vodafone with just 0.1Mbps difference and stands at No. 4.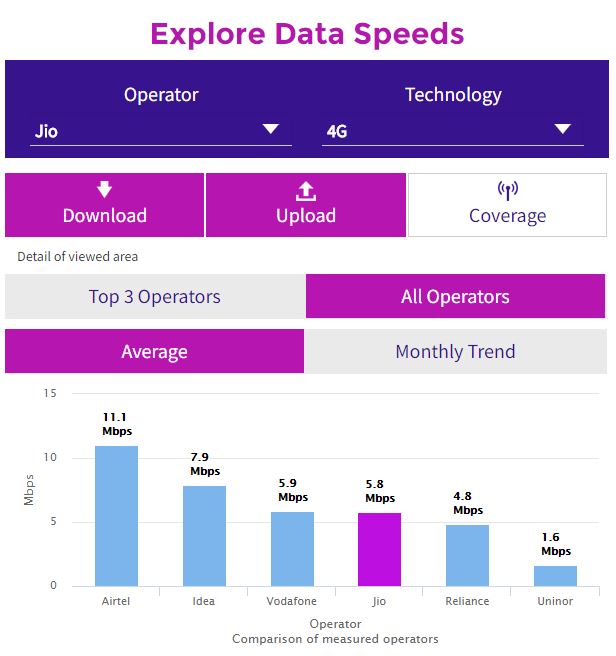 When we checked, the website failed to load the data for West Bengal and many other states and cities. From the above charts, it looks like Reliance Jio is well behind other network operators in India when it comes to average speed.
Prior to the September launch, many users who managed to get the exclusive Jio 4G SIM preview offer experienced speed up to 30Mbps. When the flood gates opened, speed began to drop. Many users began complaining about speed drops and connectivity issues. However, Reliance has issued a statement explaining the inherent bias against Jio data usage. Reliance offered an interesting explanation as to why it stands behind in 4G speeds – beyond the 4GB free data per day for users, the speed drops to 256kbps. And those who tested speed after they exhausted 4GB free quota are the ones contributing for the low average internet speed being seen on TRAI website. The full statement reads –
"Historically, we have observed that a disproportionate number of speed tests are performed once the FUP comes into effect. This is so since most users don't consider performing the test until they observe a deterioration of speed. Such users also tend to perform multiple tests until full speeds are restored.

Given that data usage under Jio Welcome Offer is completely free, a higher proportion of Jio users run up against the FUP limit. In comparison, not all non-Jio users have FUP based plans (rather their usage is completely stopped, and they are entirely prevented from performing the speed test), and even those who have FUP based plans face this situation only once a month. Further, such customers tend to recharge quickly and restore full speeds.

This difference in the offer structures, and associated customer behaviors, result in a large proportion of the speed tests being conducted on Jio network when the speeds are reduced via FUP to 256kbps. This has the effect of dragging the average far below the speeds experienced by Jio customers who are enjoying full 4G LTE speeds.

Having said that, we continuously measure the speeds experienced by Jio customers – adjusting for factors such as FUP, and are proactively working to improve service levels for all our customers."
While Reliance Jio's statement may be true, in September, after the public availability of Preview Offer, Reliance Jio speeds hit all-time low, dropping from 18Mbps in March to less than 9Mbps in September. The Ookla test revealed one important thing – that the golden days are probably over for Jio 4G.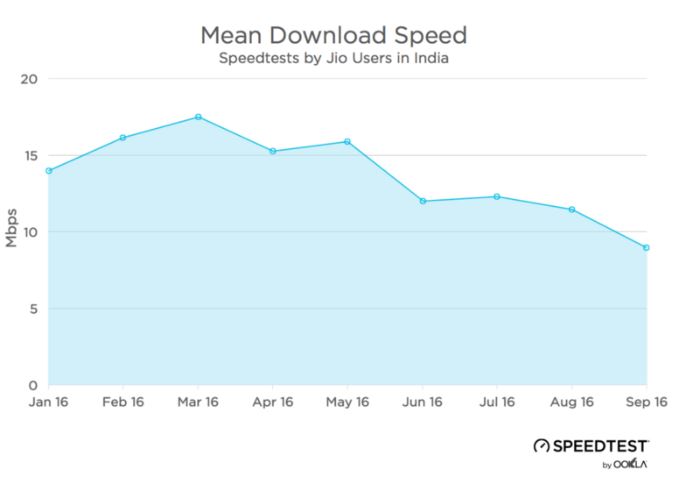 Reliance Jio is blaming Airtel, Idea, and Vodafone for failing to provide the necessary infrastructure support. Jio users are also experiencing the drastic increase in call drop frequency. It remains to be seen when the issues related to speeds will be resolved. Speed issues have been bugging most users for quite some time. If Reliance doesn't take immediate steps to resolve the issue, it may start losing customers very soon.