We finally got our very first official look at the Rainbow Six Siege Red Crow DLC. The first thing they show off is the new map and it looks phenomenal. From a graphical and aesthetic stand-point, this is probably the prettiest looking map that the game has ever received. It's colorful and the night time version looks really good. It's hard to say how it's going to play out when we finally get out hands on it.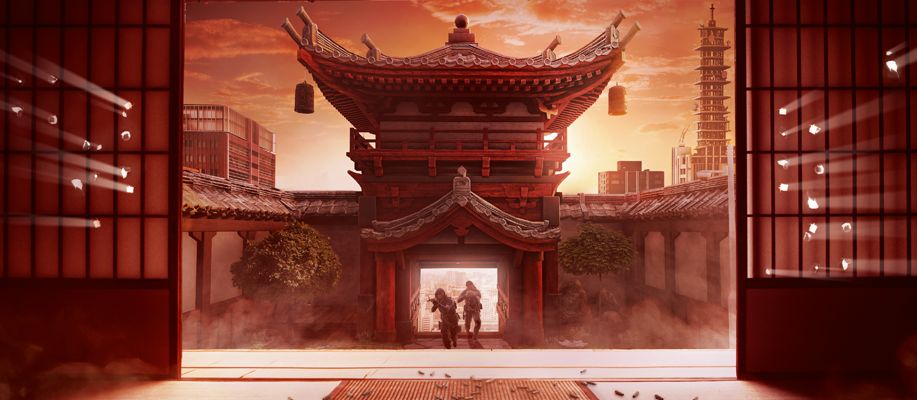 Rainbow Six Siege Red Crow DLC features a new map and operators
There's a lot of small buildings scattered throughout adjacent to the central larger structure. We assume this is where most of the action will take place during each match. Keep in mind, that the entire map is located on the roof of a skyscraper. Maybe the defensive team has some access routes that lets them go below the top floor?
The map looks incredible and we're confident that Ubisoft will hit it out of the park with this one. Recent DLC items and add-ons were great but they weren't a homerun for us. The new map is very similar to Overwatch's Hanamura so maybe they could release a map similar to Eichenwald next? Maybe attackers spawn outside the main building and have to use a zip-line to get in. If that's the case then it'll be really cool.
R6 Art Director Gregory Fromenteau explained the back story behind the map. "You are mobilized to neutralize an organized crime threat within a Yakuza-filled mansion high above the streets of Nagoya," Fromenteau explained. "There is a faction within the Higasiyama-gumi that rebels against their leader, which triggers terrible violence."
Let us know your thoughts about the new Rainbow Six Siege Red Crow DLC in the comments. Stay tuned to MobiPicker for more news and info.