AMD's Radeon RX 480 got released just yesterday, and some people are trying to squeeze as much speed from it as they can. Using aftermarket coolers, they succeeded in pushing GPU frequency above its 1350MHZ limit, which is not achievable using stock cooling solution.
PCGamesHardware mounted Accelero Mono Plus cooler and managed to get 1350MHz from GPU and a whopping 9GHz from video memory. This got them an average framerate increase of 12 percent. Interestingly, they haven't shared info regarding card
temperature.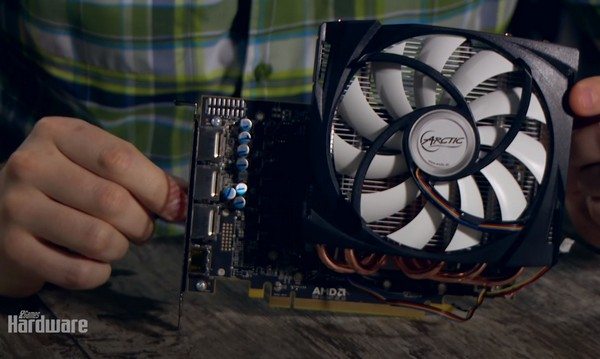 JagatReview managed to achieve a clock speed of 1400MHz, while keeping the temperature under 64 degrees Celsius. Note that they achieved 1400MHz with just one out of four RX 480 cards they used. Nevertheless, Fire Strike score they got is really worthy of respect; they got 14646 GPU points in Fire Strike Performance, 6448 GPU score running Fire Strike Extreme, and 3172 GPU points in Fire Strike Ultra.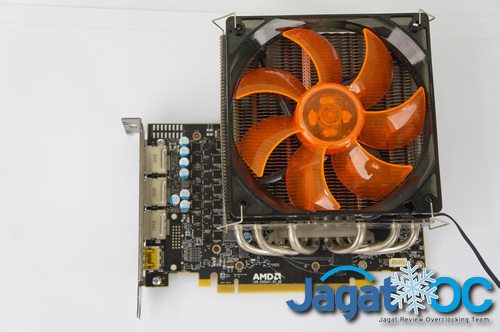 HardwareLuxx, on the other hand, managed to push the memory to 9200MHz effective clock speed, increasing performance by 7 to 11%.



EK shared its first water cooling solution for RX 480. The price is quite high; you'll have to shell out around 100 euros for it.
"The brand new AMD Radeon RX 480 is here. So is the EK-FC RX-480 water block. This is the very first block, straight from the CNC machine and will come in all four standard variants."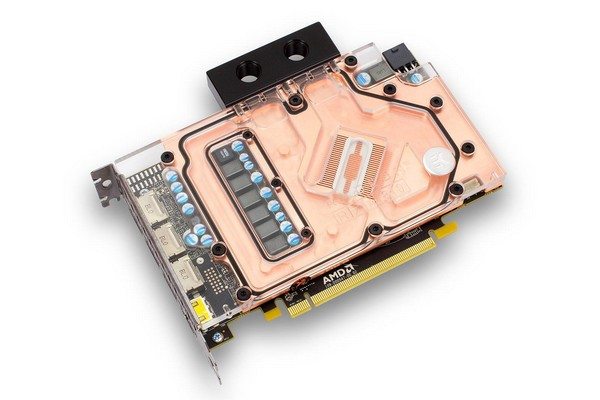 A post from HardOCP's Kyle Bennet revealed that AIB partners are reporting that with excellent quality custom coolers, RX 480 GPU is able to achieve clocks up to 1600MHz, but the maximum clock frequency varies from card to card.

In other news, AMD finally shed some light on its 400 series naming pattern. There is five groups total, and not all cards will have RX label. Only cards that offer >1.5 TFLOps performance and 100GB/s bandwidth will have RX mark.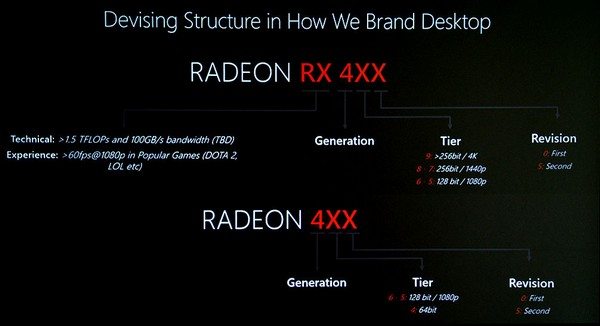 Each tier has two models, a 4X0, and 4X5, with 4X5 being the most powerful one. Tier 9 (RX 490, RX 495) is reserved for cards with memory bus exceeding 256-bits, and those cards are designed with 4K gaming in mind. Tiers 7 and 8 feature cards equipped with 256-bit memory bus and are designed for 1440p gaming. Tiers 5 and 6 will feature 128-bit memory bus and are 1080p ready. Tier 4 is reserved for weakest cards, not meant for gaming.
You can see all details below.
TIER 9
>256-bit / 4K
AMD Radeon RX 495
AMD Radeon RX 490
TIER 8
256-bit / 1440p
AMD Radeon RX 485
AMD Radeon RX 480
TIER 7
256-bit / 1440p
AMD Radeon RX 475
AMD Radeon RX 470
TIER 6
128-bit / 1080p
AMD Radeon RX 465
AMD Radeon RX 460
TIER 5
128-bit / 1080p
AMD Radeon RX 455
AMD Radeon RX 450
TIER 6
128-bit / 1080p
AMD Radeon 465
AMD Radeon 460
TIER 5
128-bit / 1080p
AMD Radeon 455
AMD Radeon 450
TIER 4
64-bit
AMD Radeon 445
AMD Radeon 440