Prey is a newly released Action-Adventure video game with a touch of Shooting, Crafting, and Exploration elements. As you play the game, you'll need various weapons in a number different situations in the game. Each of the weapons in the game has its own special use. For example, the EMP charges are mainly used to attack the Technopaths, The Nullwave Transmitters can be used against the Telepaths, etc.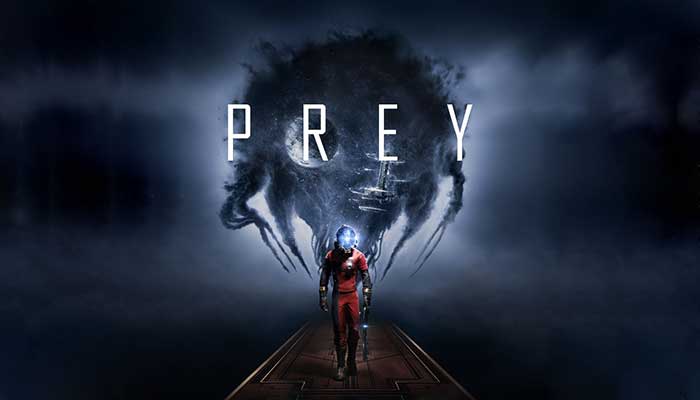 Stuffing your inventory with every other weapon you see is not a good idea. Selecting and using the right tool and the right weapon is what actually helps you stay one step ahead of your enemies in a battle. It's a rewarding ability to know what weapons you need when facing certain types of enemies and hazards in Prey. So, it can actually be a difficult task to do just that.
In Prey, you are free to equip and use whatever weapon is in your inventory. But, if you are in a battle, you must know what do you need against the enemy you are facing. Favorites Wheel helps you a lot in this particular regard. You must also know how to quickly select and effective weapon and use it. And, if you have to change the previously equipped weapon, you should do it swiftly as the enemies won't give you much time to think.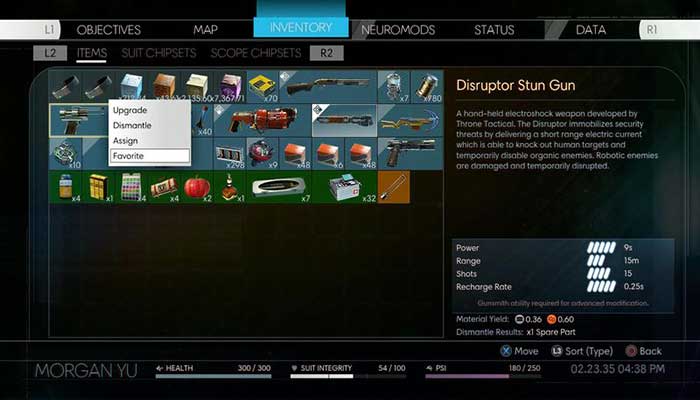 Every new weapon and grenade you pick up while in a battle or exploration, gets stored directly on your inventory. The Favorites Wheel is very useful when you have a little number of weapons and grenades on it. It fills up pretty fast and that's when you face difficulties in selecting the right tool swiftly.
This is when actually Favoriting and un-favoriting things in your inventory becomes a useful habit. In order to favorite an item (Weapon or Grenade, or others), while you are on the inventory screen, select one of your guns, grenades, or any other item, and click or choose the menu option. Quickly, a pop-up will appear on the screen. You'll find the last option to favorite or unfavorite the item you selected previously. Once the weapon becomes your favorite, an opaque triangle appears with it. It's your cue of your weapon becoming your favorite.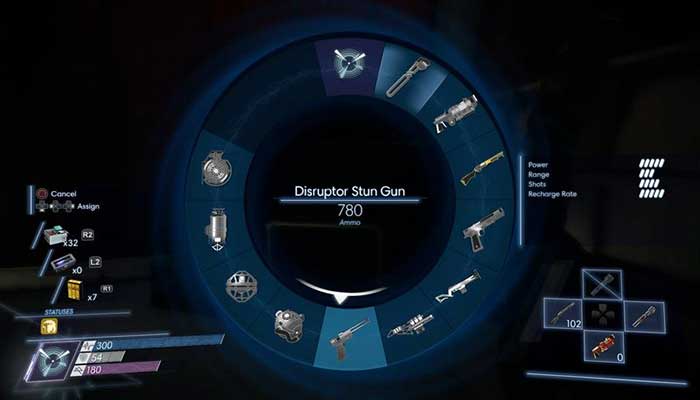 You can do the same with your PSI Powers. If you want to make your PSI Powers favorite, you can follow the same procedure with making the weapons favorite.
Once done, you'll see all of your favorite weapons, items and powers on the Favorites Wheel. If you've also unfavorited some items such as weapons and powers. They will not show up on the Favorites Wheel again until you make them favorite again. You can make them favorite again by following the same procedure.
That's it, it's that easy to do. Favoriting items will help you reach out to the most suitable weapon or grenade that you might want to use against any particular enemy. It'll also help you improve speed to react in a very little window of time before the enemy attacks you. So, do make some items favorite in your inventory and enjoy the game even more.
Hopefully, this guide will help you a lot if you want to know how to make the items such as weapons, grenades, and PSI Powers favorite and use the Favorites Wheel properly. Do let us know if we've missed out on anything else. Drop a comment or two below.
Also Check: Prey 2017: How To Fix Various Errors, Random Crashes, In Game Freezing, And Issues With FOV