"Preacher" Season 2 recently released featurette shows that the upcoming season is going to be much bigger and crazier as compared to the first one. The official teaser also revealed some important tidbits about the series. Check out in detail!
According to Screen Rant, the recently released featurette reveals much more than what was released in the first trailer of "Preacher" Season 2. The three-minute video covers a lot of footage that has already been a part of the trailer. But it also includes few new shots. One scene displays a man with a torn arm putting an effort to use a vending machine.
'Preacher' Season 2 Trailer Details
Prior to the release of this video, AMC dropped a trailer that included a set of sneak peeks for the upcoming season, several motion posters, as well as an entire clip, focused on the premiere episode. The new teaser shows scenes from "Preacher" Season 2 that help the viewers understand what the characters are looking for and communicating with God. The upcoming season will premiere on two nights on Sunday and Monday, June 25 and 26, says Nola.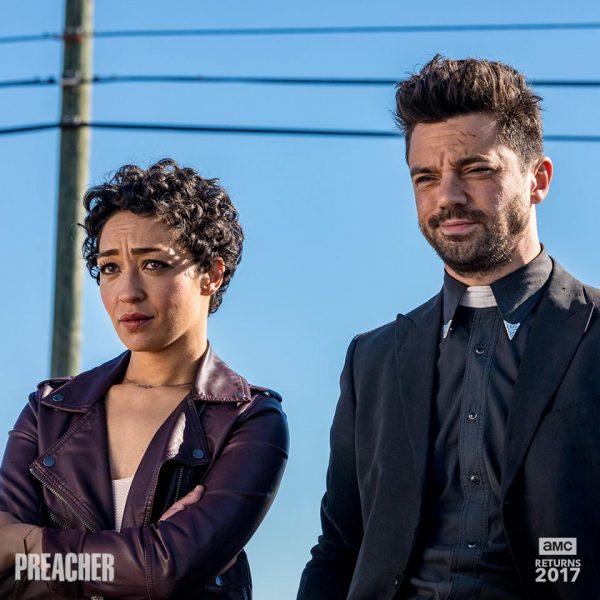 One of the teasers titled, "The Search for God: Day One" reveals that the trio of Cassidy, Tulip, and Jesse are involved in an action-packed road trip. These three anti-heroes embark upon a journey in search of God. It seems that these three will have to go a long way to reach their destination.
Another clip in the featurette of "Preacher" Season 2 titled "A Look Ahead" shows the cast and crew discussing how things will become more complicated for the trio after they hit the road. The recent featurette video includes much more such clips. According to the author and co-executive producer of the series, characters in the second season will be mostly on the road going to different places.
'Preacher' Season 2 Is Full Of Absurdity And Drama
The executive producer of the show, Sam Catlin described the upcoming season as full of comedy, violence, absurdity, and drama. So fans can expect a lot of new twists and unexpected plots while the characters in the series hit the road in search of God.