CoroCoro is on a revelation spree this month and we are getting impatient for more. An Alolan Grimer is pretty much confirmed right now thanks to more leaks. It's going to be a Poison/ Dark Type. This will make it incredible competitively. It has an immunity to Psychic and has four Resistances. These include Poison, Ghost, Grass, and Dark. Here are the Pokemon Sun and Moon CoroCoro Leaks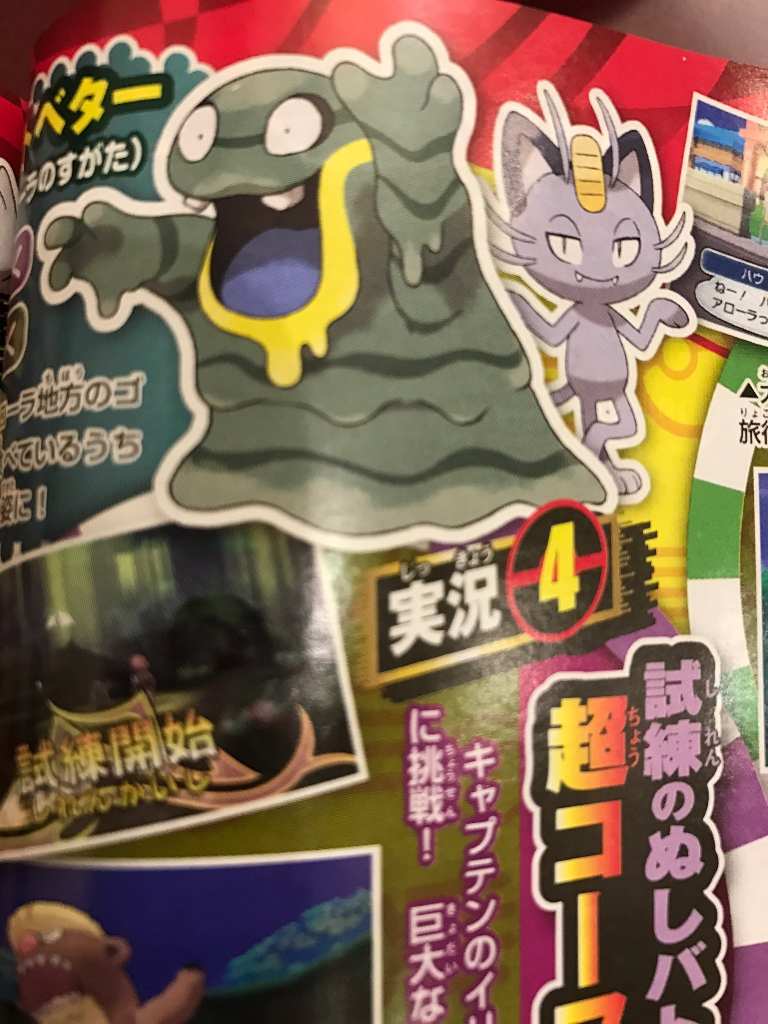 Pokemon Sun and Moon CoroCoro Leaks – Alolan Grimer and more
"The first images from CoroCoro have leaked and have revealed the latest news on Sun & Moon. As always, do note that translations are preliminary while we work on them. In the first image, we see Alolan Grimer, which appears to be a Poison/Dark-type.

10:20: From the same source. But currently without pictures so it's unconfirmed. Jangmo-o's evolution is in the magazine, and is Dragon/Fighting-type. And that Type: Null it evolves into a Pokémon called Shiruvadi (シルヴァディ). Either Null or its evolution change type based on items it holds. We'll bring confirmation of this as and when it comes so keep checking back.

12:50: The same source says that Shiruvadi has got the ability "AR System". Furthermore it changes its type based on the hold item.

14:06: The same source also says that Jangmo-o's full evolution line is in CoroCoro. Its evolution is known in Japan as Jarango and Jarango then evoles into Jararanga. Once again, this remains unconfirmed until images surface"
We'll keep you updated with more Pokemon Sun and Moon CoroCoro Leaks.
Pokémon Sun and Pokémon Moon are two upcoming role-playing video games in the Pokémon series developed by Game Freak and published by Nintendo for the Nintendo 3DS handheld game console.
Stay tuned to MobiPicker as we will be getting more info about the game from the Japanese magazine CoroCoro. You can also check out the Joe Merrick's Twitter page for more CoroCoro leaks regarding the upcoming Pokemon game.