If you don't know what Pokémon GO is, you're probably hibernating in the dark ages. Pokémon GO is now a global phenomenon – everyone around the world is hooked to this game. Pokémon GO achieved what Ingress couldn't and did so in a matter of days! But despite all the success stories, we have had users complaining about many issues – from battery draining issues to server issues. The latest bug discovered is the tracking bug.
Tracking bug hampers the core aspect of Pokémon Go – catching Pokémons! By now, you must be familiar with the three footprints shown underneath nearby Pokémons. This bug doesn't cause these footprints to decrease as you go closer to them – ideally, they should. What exactly caused this bug to appear all of a sudden is something that's being debated. The recent Android and iOS update is a strong suspect. Whatever be the cause, until Niantic releases a fix, you may miss out on rare Pokémons. Not good! Can I do something about this?? Yes, you can! This post is all about the workaround you can use to get around this bug.
Pokémon Go Tracking Bug: The Workaround
There are two ways to fix he tracking bug. One way is to use Pokévision and the other is by playing Ingress.
Fix 1: Use Pokévision
This method is definitely worth a try if you have been facing the tracking bug problem of late. Pokévision is essentially a map which shows you the actual locations of Pokémons and also gives info about how long they'll be in that location. It lets you type in your address and view a map that shows the exact location of nearby Pokémons. There's a time displayed for each Pokémon, which shows the countdown to how long it's available. Pokévision uses Niantic API directly to show you the exact locations of Pokémons at this very moment and the duration for which it'll remain there, so that you can hurry up and catch it before it disappears!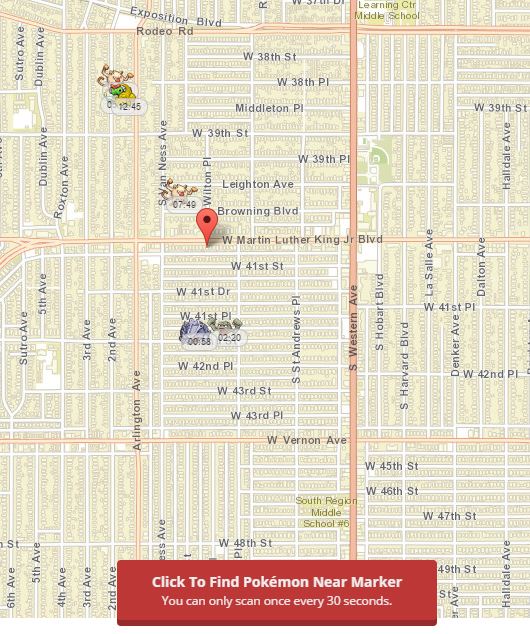 We must warn you that Pokévision isn't always responsive. Sometimes, the website simply refuses to load or takes a long time to load. And when it does load, you can only search once every 30 seconds. Bad luck if the Pokémon near you disappears within those 30 seconds!
Pokevision APK Download for version 1.0 is now available at apkpolice.com and it supports all Android phones running Android 4.4 or later.
Fix 2: Start playing Ingress
If you are wondering whether you read that right, yes you did! Start playing Ingress to fix the tracking bug! How, you ask? Well, Ingress, just like Pokémon Go, uses real-world locations to reward players. It turns out that the developers of Pokémon GO have based the locations of PokéStops and Gyms based on the data gathered by Ingress players. If you have played Ingress, you are probably familiar with exotic matter. In short, Ingress shows you a map with high exotic matter concentration. In the game, this is actually represented by light dots. So the whole point we are trying to make here is this – use these light dots to figure out locations of Pokémons!! The more dots, the more likely it is for a Pokémon to pop up in the exact same location in Pokémon Go. Crazy?? Well, give it a try!
However, playing Ingress and Pokémon GO drains your battery by twice the amount. With Pokémon GO alone draining battery considerably, you may want to think this through. If your battery is full and you have time for some adventure, we suggest you to use Ingress light dots to find Pokémons!
Do let us know your experiences of finding Pokémons using Pokévision and Ingress. We'd love to hear about how you caught that rare Pokémon you've been wanting to catch. Feel free to post in the comments section!