Pokemon GO sales now have earned more money than major 2016 Blockbuster movies. These include Independence Day 2 (released on June 22) and Angry Birds Movie (released on May 13). It also includes WarCraft (released on May 25). Niantic's augmented reality mobile game took the world by storm. It quickly defeated other mobile gaming titles. It became one of the most downloaded and used app on both Android and iOS.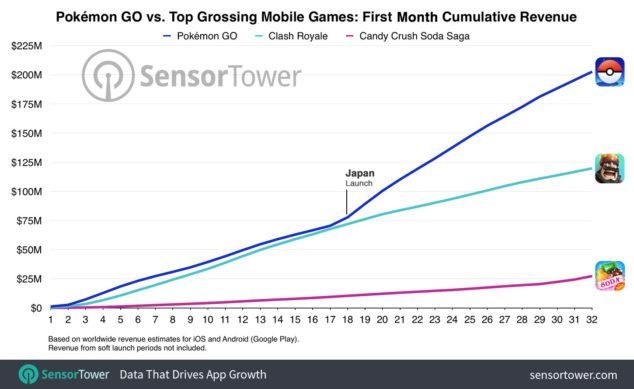 Pokemon GO Sales has earned $440 million since its release in July
As explained in an article in sensor tower, As is common with most mobile game launches driven by viral popularity and early adopters, global installs of Pokémon GO have decreased over time, but it has nevertheless managed to surpass 180 million worldwide downloads in its first two months on the App Store and Google Play.

To look at this feat from another perspective, we estimate that Pokémon GO has been installed on more than 12 percent of all active U.S. smartphones at some point.

In addition, as of August 30, the average amount of time spent in the game daily by active U.S. players (on iOS) is an impressive 32 minutes—practically unchanged from where it was during its launch week."
You can read the full article here. Video games, especially AAA titles, have a long tradition of surpassing yearly blockbusters. Modern Warfare 3 broke sales records that even smashed those of blockbuster films. What makes Pokemon GO special, however, is that it didn't have as high production values as those of many other titles. Niantic was able to pull it off and break new ground, not just in the market but also in the technology end of things.
Pokemon GO has also surpassed Twitter in terms of active users. The game is sending ripples throughout the world. It also has yet to release in the two most populous countries in the world: India and China. so, that means the game has yet to reach another major milestone. We'll keep you updated as soon as that happens.