Pokemon Go is an augmented reality title from Niantic. The game managed to become one of the most popular mobile games shortly after it was released. However, after only a few months, the game lost its heat. But it is still played by thousands of players every week.
Recently, it was reported that one of the most rarest Pokemon, Ditto has made its way into Pokemon Go. The Pokemon has been hidden from the Pokedex for quite some time now, but it has now finally made an appearance, but in an unusual way.
Ditto Disguised As Other Pokemon
A lot of players from all over the world are reporting that they managed to catch Ditto in Pokemon Go. However, one unusual thing about Ditto is that it's not in is original form. That's right, Ditto is currently present in the game in the form of other Pokemon. It can be a Pidgey or even a Snorlax. You will get to know whether you caught a Ditto or not only after you catch a Pokemon.
How To Catch Ditto In Pokemon Go
This means that players will now have to catch each and every Pokemon they encounter if they wish to add Ditto in their collection. One thing to keep in mind here is that you will waste a lot of Pokeballs while trying to catch each and every Pokemon if you haven't practiced your Pokeball throwing skills. For those who don't know how to properly throw a Pokeball, make sure you see our guide of how you can enhance your Pokeball throwing skills. You can also run out of Pokeballs, so make sure you're prepared for that too.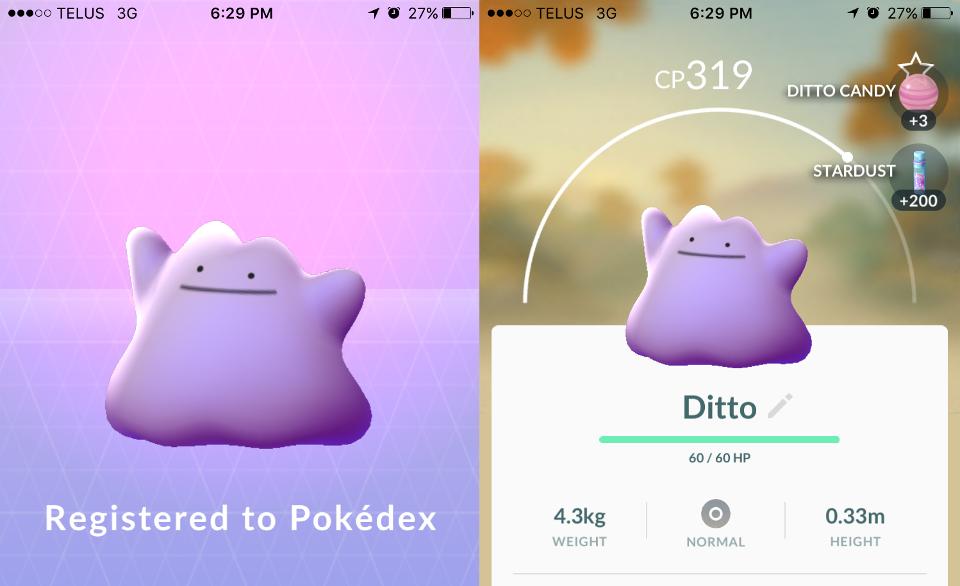 Those who want to capture Ditto should use incense or lure on a PokeStop to make Pokemon appear quickly. This will help you in catching a Pokemon faster. Ditto will be disguised as another Pokemon, so catching him will be a big headache. So in order to catch Ditto in Pokemon Go, you will need to have a lot of patience.
How Useful Ditto Can Be In Pokemon Go
Ditto is a useful Pokemon as you will be able to transform him into any Pokemon you will fight in a Gym battle. Through this, you will be able to try out new Pokemon from time to time. Keep in mind that Ditto is strong for attacking a Gym, but is weak for defending one. Here is the list of best Pokemon you can use to attack and defend a Gym in Pokemon Go.
Pokemon Go was released on July 6, 2016, for Android and iOS. The game is developed and published by Niantic.
Let us know if you managed to catch Ditto in Pokemon Go or not in the comments below.