Let's admit it: Pokémon GO was a bit bare when it released earlier this month. A lot of cool features you'd expect from a Pokémon game were missing. Thankfully, Niantic is not shying away from this, and have promised a number of cool features that will be making their way to the game really soon. Here's all the ones that we know (and you want to read up on these, trust me).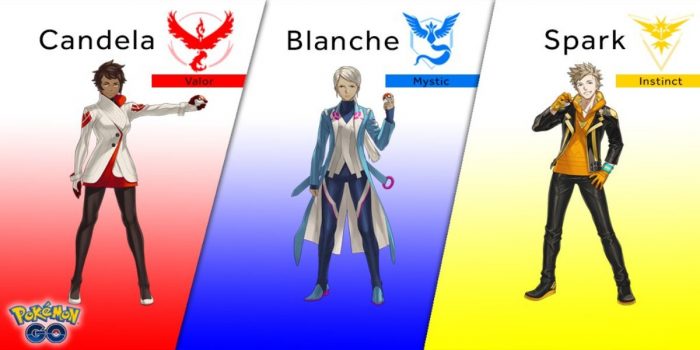 The team leaders will appear in the game to give you advice. That's the leaders up there: Candela leads Team Valor (which everyone knows is the superior team), Blanche leads Team Mystic and Spark leads Team Instinct. That's the leaders up there, in case you haven't had a good luck.
There are more Eevee easter eggs. CEO John Hanke didn't divulge what these easter eggs are, of course. It should be interesting to see what other nicknames we'll have to give the little fox to turn him into the likes of Espeon and others.
There will be better tracking tools. Business Insider believes that the original trailer for the game wasn't lying: we will actually see a complex navigation system complete with directions superimposed on the world. That's kind of really cool and science-fictiony, and I hope this actually happens.
Trading! You really can't have a Pokémon game without the ability to trade with friends. John Hanke agrees that it's a "core element" for the game, and that it will arrive some time soon. Keep in mind, though, that the servers for the game have to manage the load first.
Trainer battles! So far you can only battle your Pokémon with gyms, but it has also been confirmed that the game will let you battle Pokémon with your friends. Here's to hoping it has some kind of voice recognition support, so it can automatically detect when you say "Pikachu, I choose you!"
More augmented reality. Hanke said that the game's current implementation of augmented reality is a "great first step". There's clearly more in the pipeline. Could trainer battles be AR? Perhaps you could even see your captured Pokémon chilling out in your house, or walking with you outdoors?
Legendary Pokémon are coming, but only after the game is available in all regions. We know for a fact that the legendaries are in the game: Mewtwo, Articuno, Zapdos and Moltres. They obviously don't appear as random Pokémon, but there might yet be a way to catch them. The game's original trailer had a definite idea of how they'll work: a massive event would have thousands of players battling a single Pokémon, and when that Pokémon is beaten, everyone who participated would get that Pokémon. Will this be how the actual in-game version works?
City-wide events and raids. There will be special events, taking place across entire cities and having timers. You'll have to organise a group of buddies and Pokémon GO players to take down whatever objective the game assigns you, not unlike an MMO like World of WarCraft.
Team trainer battles. If battling trainers one-on-one is too boring for you, you can battle as a team against others. It's not confirmed yet whether these are the same teams you join at level 5, or if these are essentially parties you can create on the fly.
PokéStop and Gym customisation. Niantic has confirmed that players will be able to customise PokéStops and gyms. This should make them interesting, unique places, and make exploring new places more of a joy. But who exactly will have the ability to customise that particular PokéStop or Gym? Niantic has yet to reveal that.
Pokémon Centers will be heading to the game. In case you're not familiar with the original games, these are places where you can instantly heal up Pokémon for absolutely no charge. Basically universal healthcare for your Pokémon. Who knows what purpose they will serve in Pokémon GO or how they will be implemented exactly, but they should definitely make for great spots for trainers to get together, trade, share advice and more. Just like in the mainline Pokémon games.
Which feature are you most excited for in Pokémon GO? Let us know in the comments below. Which other features would you like to see in Pokémon GO? Also let us know in the comments below.
Thanks to the original source, Comicbook.com.