We're only two days away from the biggest day in Pokémon history yet, Pokémon Day: the 20th anniversary celebrations for the franchise, which has made its to global popularity after a humble start in Japan all the way back on February 27th, 1996.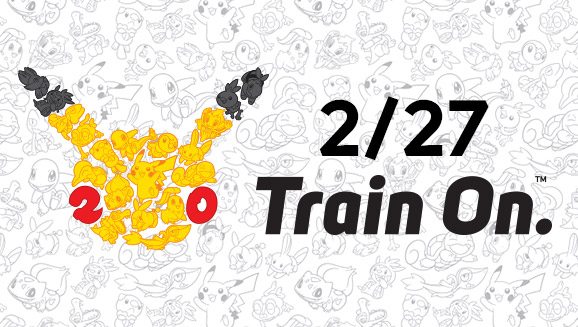 The Pokémon Company has a lot planned for that day, as evidenced by this blog post. All Pokémon fans are invited to the Rockefeller Center in New York City for a special event that will feature fun activities for attendees. Over on the West Coast, there will be a pop-up shop at JapanLA in Los Angeles, which will run for a whole month, through March 27th.
Toys'R'Us will feature special foil cards featuring Pikachu and Magikarp from the new Pokémon TCG: Generations expansion, and also a Pokémon activity book. GameStop will be offering a Mythical Pokémon poster with the purchase of any Pokémon product, and an exclusive Mew plush will be available for purchase.
For all the rest of you out there, the Pokémon channel on Twitch will host an event starting at 10am ET / 7 am PT (3 pm GMT), and then a massive 24-hour animation marathon at 6 pm ET / 3 pm PT (11 pm GMT).
As we've previously covered, February 27th will see the release of Pokémon Red, Blue and Yellow on the Nintendo 3DS, allowing players to rediscover the original Pokémon games exactly as they were, back in 1996. A brand new Pokémon 20th Anniversary bundle will also be available for the New Nintendo 3DS, as well as the 2DS.
It doesn't even end there! Pokémon Photo Booth app is out on the App Store for the iOS, and will soon be available on Google Play for Android. And finally, anyone logging into the Pokémon TCG Online on Pokémon Day will get a set of limited edition Pokémon 20th commemorative card sleeves.
Phew, that's a lot of plans they have in store for the 20th. That's not even counting the tons of stuff they have on offer throughout the year, such as the possible release of Pokémon Z, the mysterious and newly-leaked Pokémon Sun and Pokémon Moon, the upcoming Pokémon movie and the smartphone game Pokémon GO. We'll likely find out more details on these in tomorrow's Pokémon Direct.