"Pirates of the Caribbean 5" undoubtedly is a Johnny Depp movie. He is yet again reprising the role of Captain Jack Sparrow. Incidentally, Orlando Bloom is also returning as Will Turner after a long gap for this fifth installment. However, the most interesting part will be the addition of new characters. It is sure to give more depth to the storyline.
'Pirates of the Caribbean 5' New Posters Update
The movie will release on May 26. Hence, the production team is busy promoting it strongly as of now. Recently, Disney unveiled brand new posters, reports Comicbook. The new posters have new characters apart from of course the presence of Johnny Depp.
The fan-favorite Captain Jack Sparrow and the poster of returning actor Geoffery Rush are the main attraction. The new faces adorning the posters include Brenton Thwaites, Javier Bardem, and Kaya Scodelario. These are the characters that are expected to add a new dimension to the story of "Pirates of the Caribbean 5."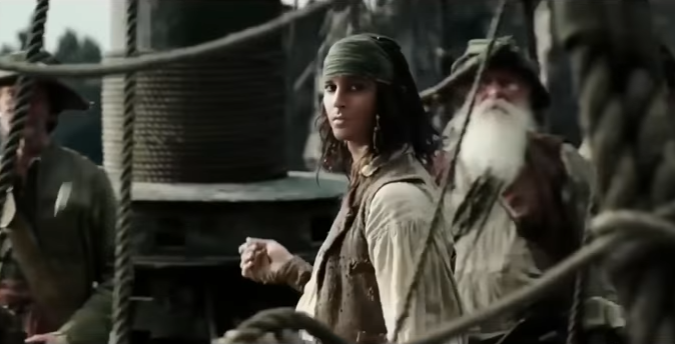 Although the last two flicks from the franchise did not generate much interest, a lot of hype is being created around the fifth installment. According to reports, Disney even organized a screening for the theater owners and press people recently at CinemaCon.  And the reviews were positive indicating that "Pirates of the Caribbean: Dead Men Tell No Tales" has full chances of becoming a massive hit.
'Pirates of the Caribbean 5' Synopsis
In the movie, Jack Sparrow will be hunted by the main antagonist Captain Salazar as he intends to destroy the dominance of pirates on the sea. Captain Salazar manages to escape from the Devil's Triangle and is now behind the pirates, especially Jack Sparrow, reports Blastr.
The only hope of survival for Sparrow and his team is the Trident of Poseidon which he tries to find by getting in alliance with Henry (Brenton Thwaites) and Carina Smyth (Kaya Scodelario). It would be interesting to watch how Captain Sparrow manages to overcome the challenge of the ghostly team led by Salazar in the "Pirates of the Caribbean 5."