Microsoft Surface Pro 5 is one of the most awaited devices since it has been a long time since the launch of Surface Pro 4 which happened in October 2015. The Vice President of Devices with Microsoft, Panos Panay had recently said in an interview that the Surface Pro 5 does not exist. This killed all the hopes of Microsoft fans who are eagerly waiting for Surface Pro 5. The new press renders that have been leaked by the well-known tipster, Evan Blass, reveals that a Surface Pro 2-in-1 device that will get unleashed on May 23.
Recently, the Redmond giant had tweeted that a Surface device is slated for an official announcement on May 23. Since Panay confirmed that Surface Pro 5 does not exist, the rumor mill was speculating on which Surface device will be unveiling on May 23. Panay also said in the interview that the company would only consider releasing Surface Pro 5 when there is a requirement of meaningful hardware changes.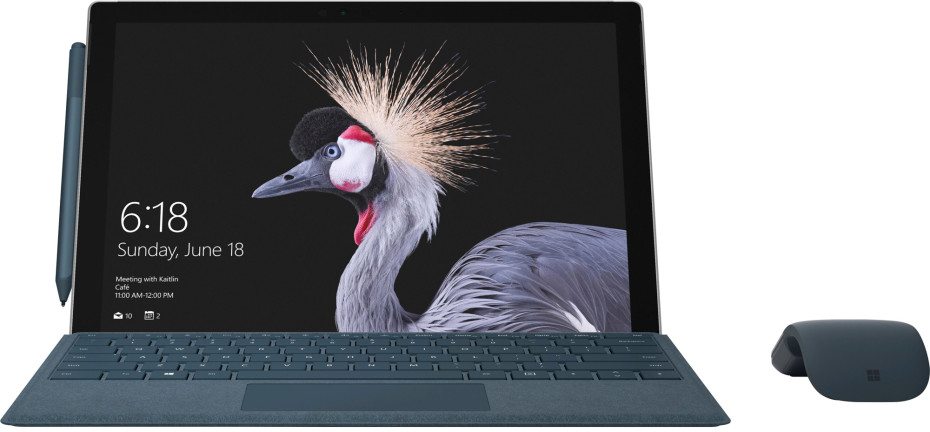 However, Blass has revealed the next Surface Pro tablet that will possibly get announced in the next week. He claims that this model will be launching as 'Surface Pro" even though he had previously tweeted that it would be called Surface Pro 4 Refresh. Recent speculations have claimed that it would be called Surface Pro 4.5.
Even though it will be coming with Surface Pro moniker, it seems that the new model will be refreshed version of Surface Pro 4. This is possible because the press renders show that the Surface Pro is identical to Surface Pro 4 in appearance.
In October 2015, Microsoft had debuted Surface Pro 4 and Surface Book at the same launch event. However, there will be no successor model for Surface Book at May 23 launch event reveals Blass by citing a dependable source that is aware of Microsoft's plans.
The press renders show that the Microsoft Surface Pro would be arriving with accessories such as mouse, keyboard and Surface Pen stylus. Compared to predecessor accessories, the new accessories seem to have slight design modifications. The Surface Pen can be seen in four color choices. Since the upcoming Surface Pro does not have unique changes in its appearance, Blass speculates that the real changes will be present inside the device. He added that the specifications, pricing and release details of Surface Pro would be revealed by early next week.
Paul Thurrott, a Windows expert had claimed in April that the Intel Kaby Lake processor built with 14nm manufacturing technology would be fueling the forthcoming Surface Pro. It indicates that the new device will work faster and also come with improvements in the battery performance. Thurrott also claimed that the Surface Connector proprietary power connector will continue to exist in the next Surface Pro and it will not feature a USB Type-C port. The above images also show that the USB Type-C port is absent on Surface Pro.