Last month, Philips launched two new Android handsets featuring "Anti-Blue" displays. The phones produce around 86% less blue light from their displays thanks to the technology called SoftBlue, which results in less strain and fatigue on the smartphone user's eyes. The two Anti-Blue Philips models released last month are the Philips Sapphire S616 and the Philips Sapphire Life V787.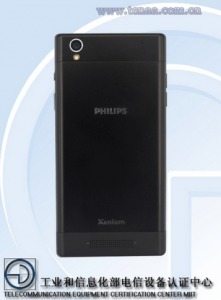 The Philips Sapphire S616 is already available in China with a price equivalent to $220 USD, while the Philips V787 has just been certified by the Chinese regulator TENAA (via Phone Radar). The model features a 5-inch "Anti-Blue" display with a resolution of 1080 x 1920, working out to a pixel density of 441ppi. An unknown MediaTek SoC will be powering the device, featuring a quad-core 1.5GHz CPU. The device also carries 1GB of RAM, together with 8GB of inbuilt storage, expandable up to 32GB using a microSD card.
It also features a 13MP rear-facing camera which uses Phase Detection Auto Focus (PDAF) for quick focusing, and a 5MP front-facing camera for selfies and video chats. The phone carries a 5000mAh battery (yes, you got it right) with the Philips owned Xenium technology, providing 47 hours of talk time. The Android 5.1 Lollipop comes pre-installed.
Now that the TENAA certified the Philips Sapphire Life V787, its official release should be following shortly. Check out the TENAA picture gallery below.