Looks like our guesses on  PepsiCo China's upcoming smartphone were right. Pepsi is indeed releasing a smartphone with decent but not high-end specs that according to Chinese sources will be announced in Beijing on October 20.
The Pepsi smartphone is currently named Pepsi P1 coming with a 5.5-inch 1080p display, 1.7GHZ MT6592 SoC. 2GB of RAM paired with 16GB internal storage is somewhat average, but the camera is slightly better, being a 13-megapixel rear and a 5-megapixel front unit. The phone will be backed by a 3000 mAh battery. According to the leak the price will be CNY 1,299 (approx. $205) and the Pepsi P1 will be running on Android 5.1 OS.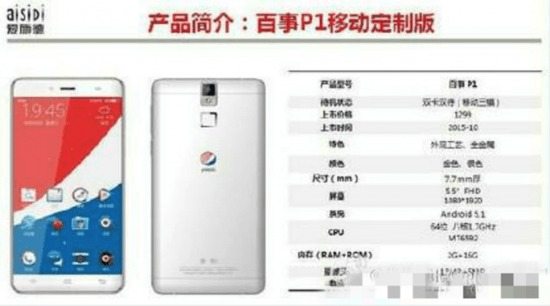 The Weibo page that was mentioned in our last article says that the official details will be released next Tuesday, October 20. We are wondering whether this pattern will follow in other regions of the world, and perhaps the biggest competitor Coca-Cola might feel the urge to quickly make one as well. This is going to be interesting to see a beverage company to step in to the smartphone industry.
We will post the official details released next week upon their arrival.