Park Bo-gum, the South Korean actor who has gained recognition for his diverse range of roles in film and television, plays the role of Joseon Crown Prince in Love in the Moonlight (Moonlight Drawn by Clouds). Park Bo-gum as Lee Yeong is the only son of the King and heir to the throne. Moonlight Drawn by Clouds is a coming-of-age story about 19-year old Lee Yeong's growth from a boy to a revered monarch and his unlikely relationship with 18-year old eunuch Hong Ra-on. The Moonlight Drawn by Clouds actor is now set to appear again on Infinite Challenge.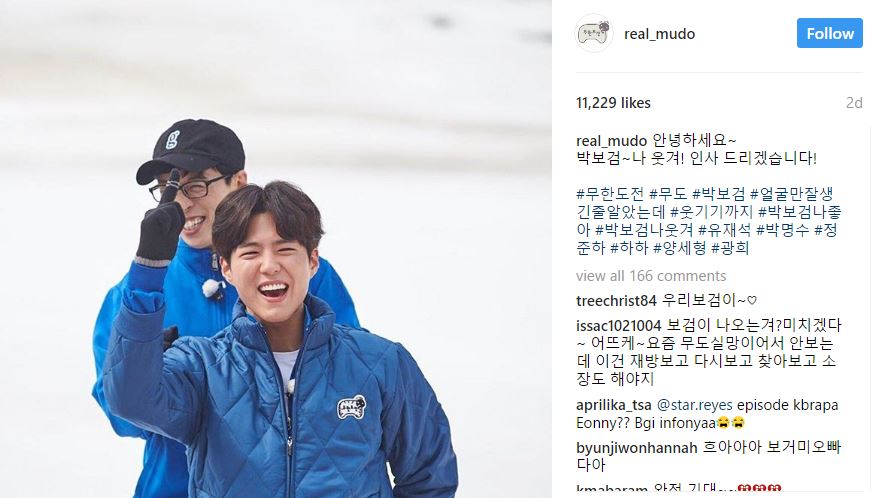 Park Bo Gum's upcoming appearance revealed
Infinite Challenge – the South Korean television entertainment program – is one of the most watched free-to-air television program on Saturday evenings. It's recognized as the first "real-variety" show in Korean television history. Park Bo Gum is all set to appear on Infinite Challenge as a guest. He is planning to join filming on March 30. For his upcoming appearance on Infinite Challenge, Park Bo Gum appears happy and cheerful. The official Instagram account of the variety show uploaded a pic showing Park Bo Gum with Yoo Jae Suk, cast member. The caption reads – "Hello! I'm Park Bo Gum, and I'm funny! Allow me to introduce myself!"
The pic shows the duo in a location surrounded by snow. The exact location of the pic, however, isn't clear. Going by the background, it looks like the upcoming episode will be a continuation of Pyeongchang Olympics theme.
Attention:
Governments and ISPs around the World monitors their users' online activities. Reclaim your freedom with
ExpressVPN
and browse the internet with confidence.
Love in the Moonlight is a domestic and overseas hit. The show achieved peak audience rating of 23.3% in South Korea and has received praise for its production, performances, and music.