Min Do-hee, better known by her stage name Dohee, is a South Korean idol singer and actress. A member of the K-pop girl group Tiny-G, she made her acting debut in the 2013 cable drama Reply 1994. Her co-star Lee Il-hwa, also a South Korean actress, made her acting debut in 1991 and has appeared in many television dramas, including the Reply series. The two actresses have received support from none other than Park Bo Gum himself for their new movie!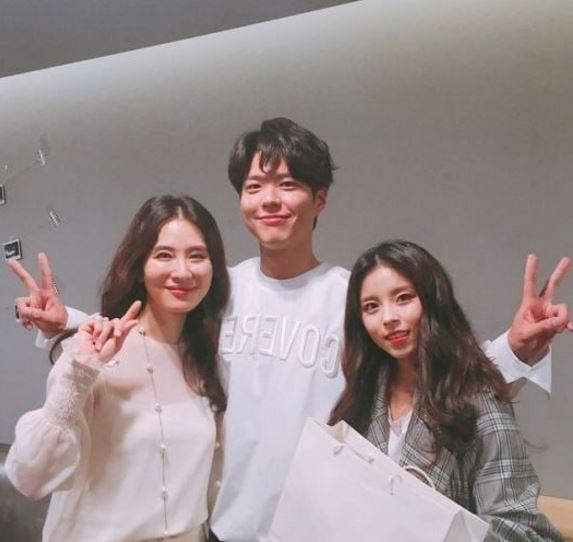 Park Bo Gum shows support for Reply Series stars' new movie
Min Do-hee recently uploaded a photo on her Instagram account. The pic shows Dohee, Lee Il-hwa and Park Bo Gum posing together happily for the camera. In the pic, Park Bo Gum can be seen flanked by the two beautiful actresses. Park Bo Gum is reported to have attended the VIP screening of Dohee's and Lee Il-hwa's new movie Daddy You, Daughter Me. The movie released in theaters on April 12.
The pic clearly depicts the support Park Bo Gum has shown for his friends. The caption accompanying the pic reads –
"Thank you to everyone who came out to support us, despite your busy schedules. We are always happy because of all the precious people we are surrounded by. We are constantly grateful."
Recently, Park Bo Gum received a hearty welcome from Infinity Challenge members when he appeard on MBC's Infinite Challenge during the 2018 Pyeongchang Olympic on April 8. Park Bo Gum expressed his thoughts about being on the show and said he was glad that his first appearance on MBC is with Infinite Challenge cast. The actor has also been nominated for Best Actor award category in 53rd Baeksang Art Awards for his role in Moonlight Drawn By Clouds.