Most of the smartphone users think that Corning's Gorilla Glass can save their phones from mishaps, but it is not unknown that they are still breakable and the limit to which they can sustain stress is not very high. It was only earlier today when we reported about the new OUKITEL K4000, a lesser-known smartphone that is so tough that normal drops are a child's play for it as it can easily survive heavy hammering and being drive over by cars. But the guys at OUKITEL have taken the challenge to the next level by putting the display of the phone under a power drill.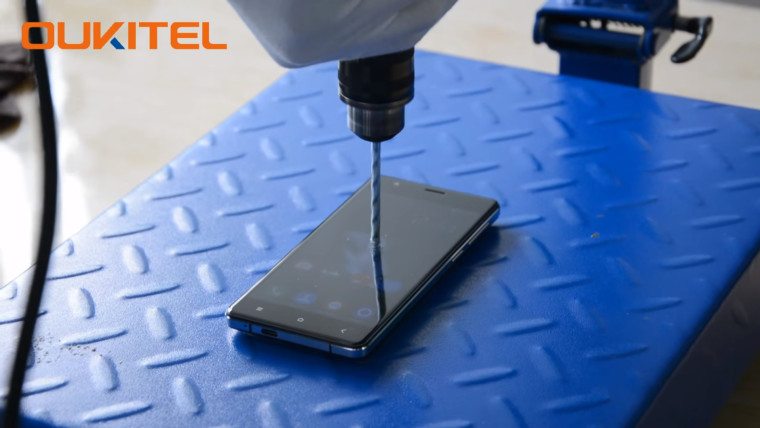 It looks like a stone drill was used in the test, though there is no confirmation upon this point. The video shows a person demonstrating the power of the drill by drilling a piece of wood. He then goes on to drill the K4000's screen. Here comes the surprise, when it takes more than 2 minutes to penetrate the display. The phone shuts off when the battery gets penetrated, which happens after more than 5 minutes of complete drilling. But surprisingly, the phone wakes up again after replacing the battery.
In case your interest in this phone has sky-rocketed and you want to get your hands on it, the OUKITEL K4000 is on sale now for $119 on the official website and the pricing is expected to go up as soon as the promotional week comes to an end.
OUKITEL K4000 Specifications:
Dimensions: 143×70.6x11mm
MT6735p (Quad-core Processor) Cortex A53 1.0Ghz
4000mAh battery
Dual SIM with dual standby
Android 5.1
5.0″ HD IPS 1280*720P
13.0MP rear + 5.0MP front (interpolated) cameras
Memory: 2GB + 16GB onboard, expandable via SD-card slot
The company claims that the K4000 has a battery life of 5 days under normal usage, while heavy usage will give up to 2.5 days of backup.
The OUKITEL K4000 is now shipping globally and can be pre-ordered from its website.