Earlier this year, OUKITEL had already hinted in some exhibitions that they are starting on a new 10000mAh smartphone named OUKITEL K10000 Max. This month, the project formally starts with surprising tri-proof features. As the name suggests, the new K10000 Max gets a 10000mAh massive battery, leading the big battery flagship. What's more, the new K10000 Max is a real tri-proof smartphone designed for outdoor enthusiasts as it is waterproof, dust-proof and crash-proof besides offering long time use.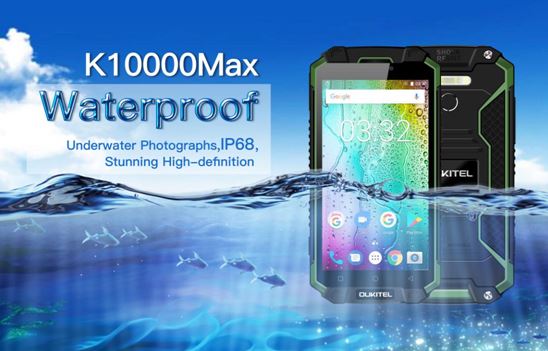 The video shows K10000 Max dropped in a fish tank and left in there for 30 minutes. It was then buried in the slurry for about 12 minutes – but both worked perfectly well. Though the model is still in engineering step, it already exhibits great water-proof and dust-proof capabilities. OUKITEL is working on K10000 Max to make it a true IP68 grade smartphone. In the near future, you can take the K10000 Max to swimming pool, to several meters below the sea and any other tough environment.
OUKITEL has opened a page on its official website to accept the subscription for K10000 Max from this week. All subscribers will get $50 coupon code for ordering the new K10000 Max.