According to a Videocardz.com reports, it seems that AMD revealed two new GPUs by accident. If take a look at the OpenCL driver, present in the latest Crimson software you'll notice the new, yet unreleased GPU architecture, codenamed GFX9. Next to it, you can see a listing including Vega10, Vega11, along with two new codenames titled Greenland and Raven1X.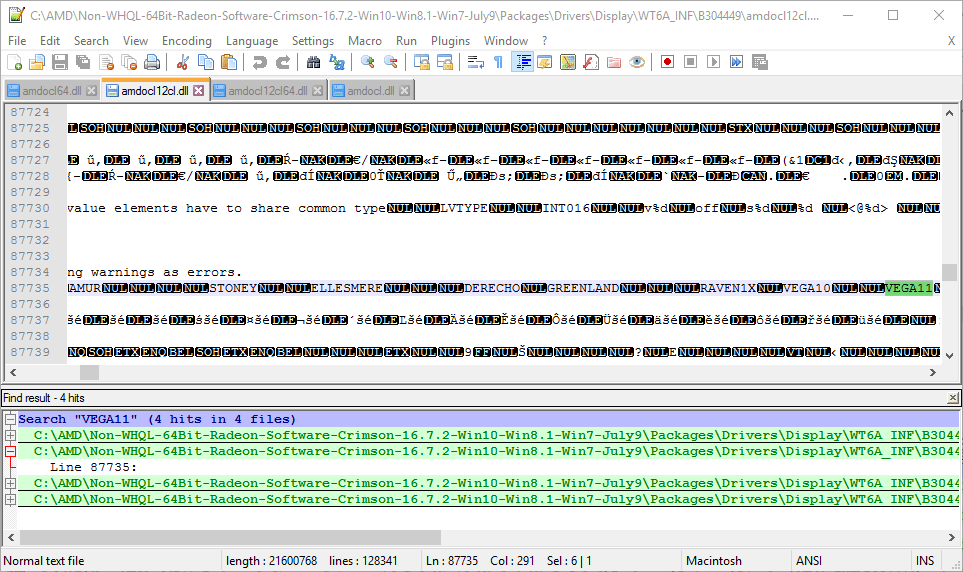 The whole list can be seen below:
SI: TAHITI
CI / GFX7: MILOS, KRYPTOS, HAWAII, NEVIS, PENNAR, BONAIRE, Kabini
VI / GFX8: ICELAND, TONGA, CARRIZO, BERMUDA, racerx, FIJI
GFX81: AMUR, STONEY, ELLESMERE, DERECHO
GFX9: GREENLAND, RAVEN1X, VEGA10, VEGA11
It seems that Greenland and Raven1X are completely new chips, and not just codenames for Vega10 and Vega11 since they are listed separately from Vega chips. Greenland was mentioned in the LinkedIn profile of one AMD employee; it was believed that Greenland was just another codename for Vega architecture, but it might be something completely new.

It is unknown is Greenland a new mobile chip, or maybe an integrated solution, but if the LinkedIn info is correct, Project Greenland may be something special, since it's noted that the chip has full 4096 shader processor capacity.

We hope for more details to surface in the coming few days or months. For now, Vega (10, 11) is still planned for 2017, and should be the first architecture from AMD to support HBM 2 (High-Bandwidth-Memory), a feature already supported by Nvidia's Pascal GP100. The new HBM should be ready for mass production during Q3 2016, as reported by Hynix.