Today we have spotted a OnePlus device, model number A2001 on Geekbench site. The phone running on Android 5.1 and powered by a 1.55GHz octa-core processer could be a OnePlus Two as expected. As per company's CEO, OnePlus 2 is due for arrival in the third quarter of the current year.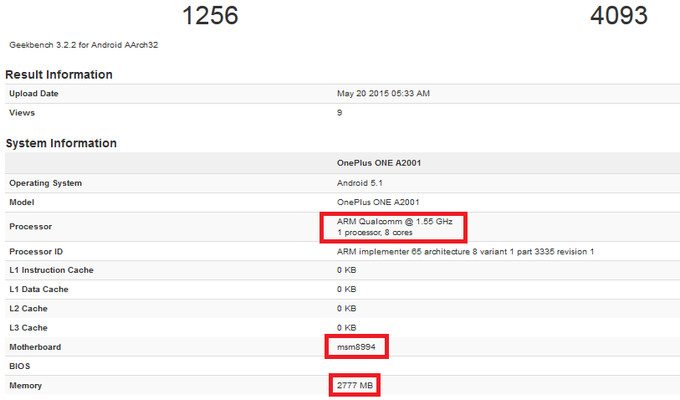 However as per geekbench, it is OnePlus One but it adorns a different model number so it is expected that a prototype on OnePlus Two is being tested. Also the device on test houses a Qualcomm Snapdragon 810 chipset which is rumoured to be only in OnePlus Two.
During the test Snapdragon was throttling at 1.55GHz which confirms that the processor will have eight cores in the CPU. Unlike expected, OnePlus Two will have only 3GB Ram considering the benchmark test specification. This is below par the capacity of 64 bit Chipset of Snapdragon810.
Benchmark OnePlus was found to be running on Android 5.1 Lollipop. Cyanogen OS will most likely to be replaced by Oxygen OS based on Android. This device may cost around US$ 400, however we have to wait for exact price till there is official confirmation.