OnePlus Pixel? Yes, we are surprised too. But we don't know what to make of the latest appearance of a phone named "OnePlus Pixel" on Geekbench. The test shows the new phone sporting a Snapdragon 820 chipset running quad-core CPU clocked at 1.59GHz. It remains to be seen whether the device in question is altogether a new variant of the OnePlus devices that has remained hidden so far or if it's just one of the OnePlus 3T test models.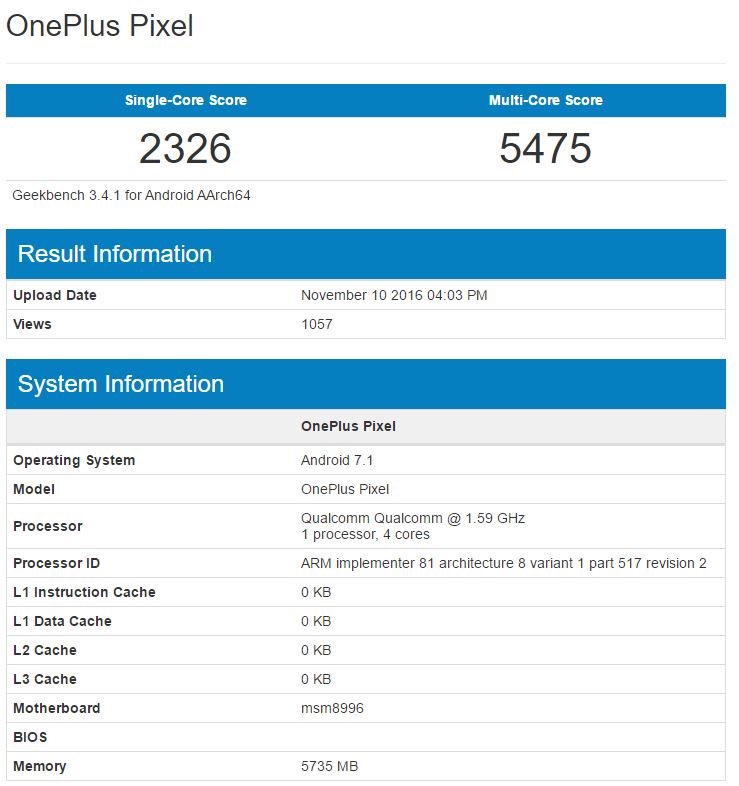 The results clearly show the Pixel phone sporting a Qualcomm 1.59GHz processor with 4 cores, with 6GB memory. OnePlus so far has cashed in on Qualcomm's powerful Snapdragon line of processors. The company is already launching OnePlus 3T with the latest Snapdragon processor – the Snapdragon 821. Is this image just one of those test versions of the OnePlus 3T? We never know!
But what caught our attention was the scores. The single-core score stands at 2326 and the multi-core score stands at 5475 on Android Nougat 7.1. Those numbers are really good. Just to paint the bigger picture, compare these numbers with those of OnePlus 3, OnePlus 2 and OnePlus X running Android Nougat versions. OnePlus 3, the latest device from OnePlus, scored 1747 on Nougat 7.1 single-core and a whopping 4007 with multi-core. OnePlus 2, on the other hand, scored lesser, with a score of 1168 on single-core and 2694 on multi-core on Android Nougat 7.0. On Nougat 7.1, it scored 715 with single-core and 2922 with multi-core. OnePlus One scored 976 on single-score and 2521 on multi-core when test with Nougat 7.0 version. So yes, the numbers that we are seeing for the OnePlus Pixel are better than OnePlus 3, OnePlus 2 and OnePlus One.
Till official announcement is made by OnePlus, we have no clue whether this phone is a new variant altogether or if this is just one of those OnePlus 3T test variants. Considering that OnePlus 3T sports Snapdragon 821, unlike the Pixel which has a Snapdragon 820, we are left to wonder if this has anything to do with OnePlus 3T at all. If this is all the new device from OnePlus, are we going to see the annoucement alongside the OnePlus 3T? Only OnePlus knows about it, let's wait and watch!