OnePlus is expected to launch a next-generation Android flagship in the second half of 2017. Previous leaks suggested that the Chinese tech firm is skipping the number "4" in the forthcoming handset's name, probably moving straight to OnePlus 5. The previous model in the lineup was the moderately popular OnePlus 3T. However, amidst all the anticipation surrounding the next-generation OnePlus flagship, details of an upcoming OnePlus handset has surfaced online — the OnePlus A5000.
According to reports in the Chinese media, OnePlus A5000 has been spotted over at the Chinese MIIT, commonly referred to as the Ministry of Industry and Information Technology.  Basically, MIIT is the Chinese equivalent of regulatory bodies such as the FCC in the US.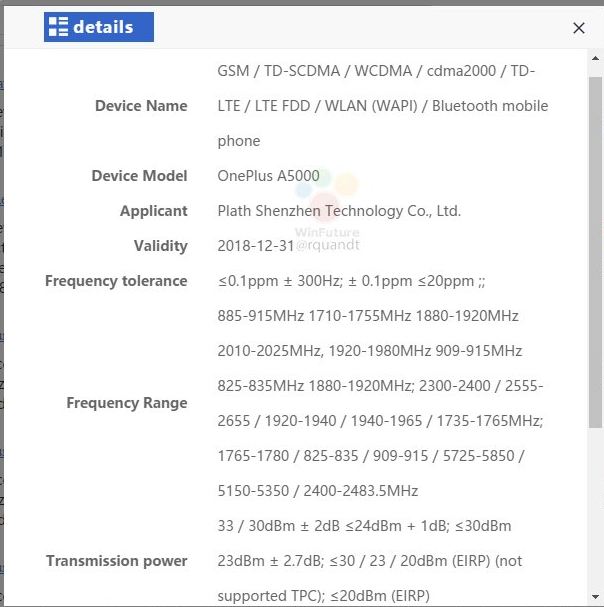 The details do not give away much about A5000 specs or its official name at launch. However, if rumors are to be believed, the A5000 is none other than but the OnePlus 5.
The leak, which includes only an image with some basic information about the handset's communication capabilities, doesn't reveal any specs. So, we urge you to take it with a pinch of salt. It shows that the handset will support Bluetooth, WLAN, TD-LTE, FDD LTE, GSM, WCDMA, TD-SCDMA, as well as cdma2000. Clearly, those are a wide range of different bands. Although, it is also possible that the model mentioned in the leak is actually meant only for the Chinese market.
If said handset is indeed the OnePlus 5, we do have a fair bit of idea regarding the possible specs and feature it will come with.
According to previous leaks, the forthcoming OnePlus flagship will probably sport a 5.5-inch full HD display with a high screen-to-body ratio. There are also reports that the company is planning to add a dual camera setup on the rear with each camera sporting a 23MP sensor. Other key OnePlus 5 specs might include a SnapDragon 835 SoC, 6GB/8GB of RAM, 16MP front camera, 3000 mAh battery, rear-mounted fingerprint sensor, USB Type-C port, wireless charging, fast charging, and Android 7.0 Nougat.
[
VIA
]