OnePlus 3T is finally here!! Fans waiting for the next version of OnePlus 3 have a lot to cheer about. And those who held back from buying the OnePlus 3 and waited patiently for the new device have made the right choice! Let's take a look at what the next flagship killer has to offer –
1. Processor – The All New Snapdragon 821
OnePlus 3T sports the new Snapdragon 821 chipset (the OnePlus 3 features a Snapdragon 820 chipset). Fabricated using 14nm tech, it has the same number of cores as the 820 but is clocked faster. The Adreno  530 GPU clocks at 650MHz which is 26MHz more than the OnePlus 3 GPU. The new processor is power-efficient and will deliver better battery life. The CPU is has 4 cores – 2×2.35GHz Kryo and 2×1.6GHz Kryo. The phone comes with same RAM as OnePlus 3, featuring 6GB. As for internal storage, the OnePlus 3T comes with two options – 64GB and 128GB.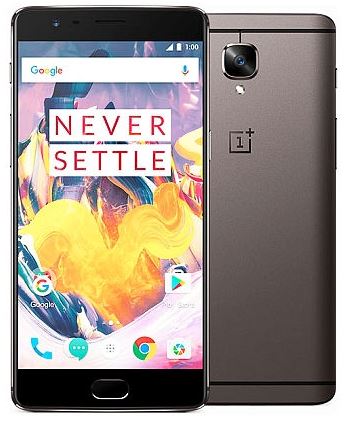 2. 16MP Primary and Rear Camera – Better and High-Quality Images
OnePlus 3T comes with Sony IMX298 sensor for its 16MP primary camera, with improved low-light performance, phase detection autofocus, Optical Image Stabilization and LED flash. The front camera in the new flagship killer has received a massive boost – the OnePlus 3T sports a 16MP front camera. Believe in your selfie! The primary camera comes with 'Intelligent Pixel Technology' that reduces noise in low light, a sapphire lens and improved Electronic Image Stabilization (EIS). The front camera adds 'smile capture' for taking automated snaps when you smile.
3. OS – Android Marshmallow
It was speculated that OnePlus 3T could come with Android Nougat out of the box. But fans are quite disappointed to know that OnePlus 3T still comes with Oxygen OS based on Android 6.01 Marshmallow. The company has announced that OnePlus 3T will receive Android Nougat update soon.
4. Daydream VR Compatible
OnePlus 3T is compatible with Google's Daydream VR platform. That's the advantage of having a Snapdragon 821 on board. Virtual Reality is gaining steady ground and is gradually making inroads in our day-to-day lives. OnePlus making OnePlus 3T compatible with Daydream VR platform is a huge boost for the phone.
5. Bigger Battery With Dash Charge
OnePlus 3T comes with 3400mAh battery. This is a straight 13% improvement over its predecessor. The phone comes with OnePlus' proprietary Dash Charge technology. Dash charge does an extremely great job when it comes to charging your phone, especially when the phone is in use. Other Android fast charging methods actually slow down when the phone is in use. Dash charge doesn't slow down and offers continuous fast charging.
6. Affordable Price
The OnePlus 3T will be available starting from $439 for the 64GB variant. This is not a significant rise compared to OnePlus 3. For the specs OnePlus 3T offers, extra $30 dollars is totally worth it!
US, UK and India Launch
While no official announcement has been made by the company about India launch, going by the shift towards India market, OnePlus is likely to launch OnePlus 3T very soon in India. OnePlus 3T will go on sale in United States on November 22nd and in the UK on November 28th.