We picked three models to be compared today. OnePlus 3 and Huawei Honor 8 are mid-range (at least for the price) smartphones offering a nice combination of relatively affordable price and more than solid hardware. Apple iPhone 7, on the other hand, is a flagship model for users who want it all but at the same time don't want to burden themselves with a huge screen. Stay with us and find the main differences between the three, as well as the best features found on each model.
Dimensions, Design
Apple iPhone 7 is the most compact model of the bunch, thanks to its (nowadays) humble 4.7-inch display. The phone measures 138.3 x 67.1 x 7.1 mm, quite a compact size for a flagship device. Huawei Honor 8 is the latest member of Huawei's Honor series, characterized by quality metal chassis and excellent hardware, all that for the price below usual flagship pricing. Since it packs a 5.2-inch screen, the phone is visibly larger than the iPhone 7. With dimensions of 145.5 x 71 x 7.5 mm the phone is relatively narrow thanks to almost invisible side bezels; the Honor 8 is also pretty thin, just 0.4 mm thicker than iPhone 7. OnePlus 3 is the largest of the bunch since it packs a 5.5-inch screen. With dimensions of 152.7 x 74.7 x 7.4 mm, the phone may seem like too big, but the size problem is only noticeable when trying to control it with one hand.
Visually, Huawei Honor 8 is the best-looking model in today's comparison. Superb metal chassis, thin profile, cool-looking backside featuring Honor branding, a fingerprint sensor, and a dual camera setup gives a minimalistic feel of exclusivity. OnePlus 3 may look quite uninteresting on photos, even though the phone looks very pretty when seen live. Metal body with a backside design borrowed from HTC's One series (two antenna bands, camera placed on the upper middle part of the backside) along with extremely thin side bezels make the phone very pleasing to the eye. Apple iPhone 7 suffers because Apple decided to use almost the same design seen on previous two iPhone generations. By itself, the phone looks nice, but the "I already saw this" feel, the consequence of a dated design, makes it a bit dull on the outside.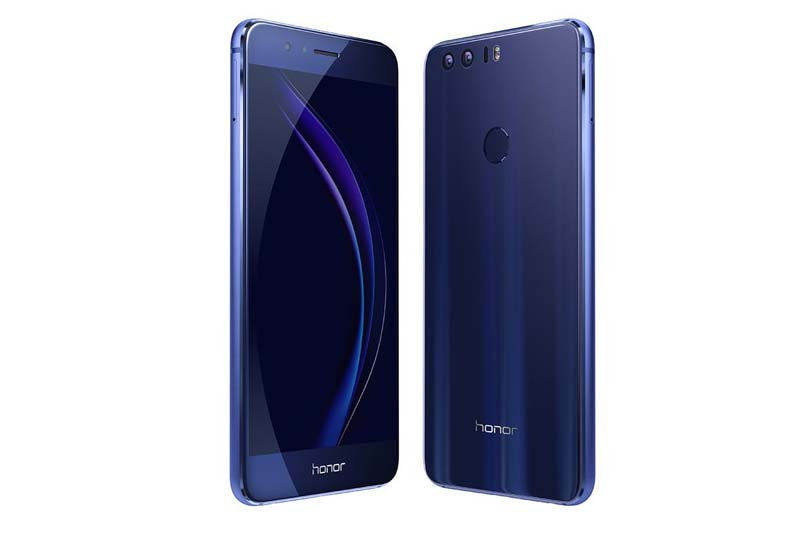 Hardware, Display
All three models are equipped with powerful hardware. Huawei packed Kirin 950 chipset (4×2.3 GHz Cortex-A72 & 4×1.8 GHz Cortex A53 along Mali-T880 MP4 GPU) into the Honor 8. Kirin 950 is quite capable SoC, with superb processor and GPU that won't give the stellar performance, but will run all latest games without problems. The phone comes with 4 GB of RAM and a choice between 32 GB and 64 GB of expandable (SIM 2 slot) internal storage.
OnePlus 3 comes with the Snapdragon 820 (2×2.15 GHz Kryo & 2×1.6 GHz Kryo coupled with Adreno 530 GPU), a chipset that lost the flagship role with the release of a Snapdragon 821; nevertheless, the 820 is still very capable SoC, offering snappy performance, lots of power and superb GPU chip. Along with 6 gigs of RAM and 64 GB of built-in storage, OnePlus 3 is a proper powerhouse ready for any kind of work. The only potential downside is that internal storage can't be expanded.
Apple iPhone 7 comes with a monster of a chipset, Apple A10 Fusion (Quad-core 2.23 GHz, six-core graphics chip), the current record holder of many benchmark apps. There are also 2 GB of RAM and a choice between 32/128/256 GB of internal storage. Quite a nice combination of powerful hardware and plenty of storage space.
All three models have different sized displays. The iPhone 7 features a 5.7-insh IPS LCD screen sporting a resolution of 750 x 1334 pixels. Sharpness could've been better (326 ppi pixel density) and the size could've been larger. Despite that, the screen is very bright, with phenomenal color reproduction and wide viewing angles.
Huawei Honor 8 features a 5.2-inch 1080p IPS LCD display. Large enough for watching movies and comfortless web surfing, but small enough for one hand usage.
OnePlus 3 packs a huge 5.5-inch 1080p AMOLED screen. Although the screen is quite big, sharpness is still very high (401 ppi pixel density), and the colors are very saturated. Perfect screen for watching videos and playing games.
 Camera
The Honor 8 packs a dual camera setup consisting out of two 12 MP (f/2.2) lenses; the camera supports laser autofocus, dual-LED flash, and HDR. It's capable of recording [email protected] videos. The selfie camera has 8 MP (f/2.4).
OnePlus 3 features a 16 MP (f/2.0) main camera, supporting phase detection autofocus, OIS, LED flash, and HDR. The camera can record [email protected] videos. The front-facing snapper counts 8 MP (f/2.0) and is capable of recording 1080p videos.
The iPhone 7 comes with a nice 12 MP (f/1.8) camera offering phase detection autofocus, OIS, quad-LED flash, and HDR. It can record 4K (2160p) videos at 30 frames-per-second. The selfie camera has 7 MP (f/2.2) and is capable of recording 1080p videos.
All three cameras are capable of making quality photos even in low light, with lots of details and low noise.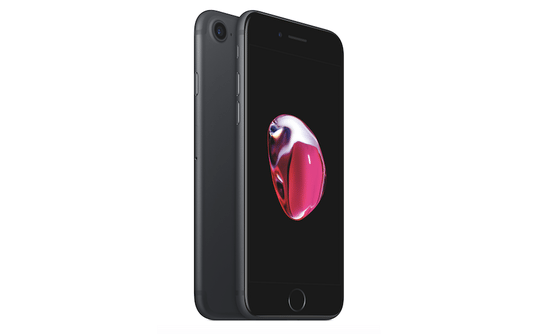 Battery, Software
Huawei Honor 8 packs a 3000 mAh battery. Although the battery could've been of larger capacity, it is capable of lasting through one whole day of usage. OnePlus 3 also packs a 3000 mAh battery, enough for a full day of usage. The iPhone 7 comes with a humble 1960 mAh battery. Yes, the iOS is highly optimized, and A10 Fusion is quite conservative with power, but a battery this small just can't last a whole day, especially if the phone is used for music, movies, and web surfing.
All three phones come with a fingerprint sensor, with OnePlus 3 and Honor 8 supporting fast battery charging. The iPhone 7, on the other hand, comes with IP67 certification (dust and water resistant up to 1 meter and 30 minutes).
OnePlus 3 works under Android Marshmallow; the Honor 8 also comes equipped with Android Marshmallow. The iPhone 7 works under the latest iOS 10.
Conclusion
Well, this is a tough one. If you don't like huge screen, have the money, and love iOS, the iPhone 7 is a great choice, but only if you own some older iPhone device, like the iPhone 5s.
The Honor 8 (32 GB version) can be found for around Rs 29,000 ($425), while OnePlus 3 has a $400 price tag. Since the price is almost the same, it all comes down to what you prefer. If liking large screen, and don't mind the lack of an SD card slot, OnePlus 3 is for you. Large screen, metal body, lots of RAM and a Snapdragon 820 are the main selling points. The Honor 8 offers dual camera setup, excellent metal chassis, and a solid hardware, so if you don't want a 5.5-inch device, maybe you can go for Huawei Honor 8.