Less than 48 hours have left for unveiling of the OnePlus 2, which is one of the most rumoured phones in the previous months. OnePlus 2 will be launched on July 27 through a Virtual Reality event. However with all these rumors, hardly there is any information which is sought now apart from its actual looks. Now looks of the phone has also been revealed in the images below.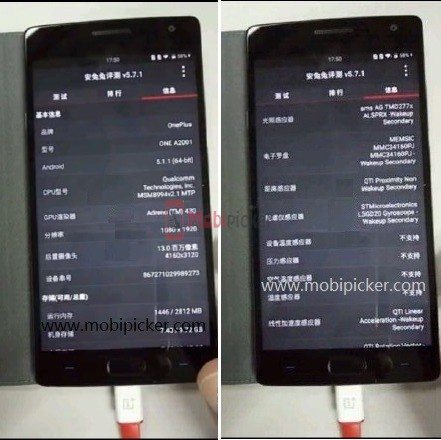 OnePlus 2 initial benchmark scores has helped the machine to land with 51460 points on the runway which is less as compared to the expectations. However, a recent alleged leaks shows the benchmarks scores as high as 63,719. The score is best amongst the all smartphones housing the Snapdragon 810. Now we have got a real OnePlus 2 image which shows the device score as compared to the first exposure for A2001 which is 49221. Also it was noted that within few minutes of usage the temperature increases to a 45.2 degrees. Does this information will give nightmares to Qualcomm once more? Below we can see the real spy image of OnePlus 2 showing the benchmarks score.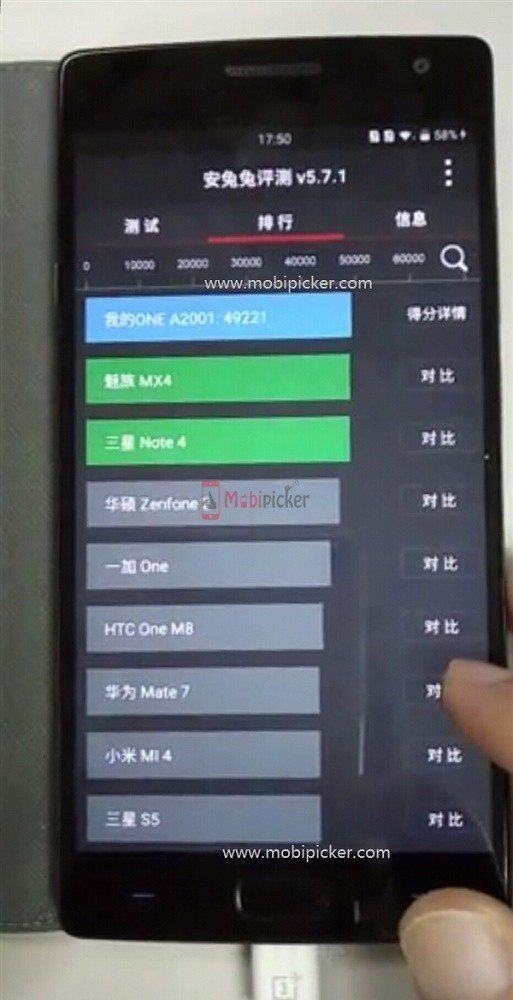 The earlier leaked specifications include a 5.5 inch display with 1080p resolution, 3GB/4GB of RAM, and 64 GB onboard storage. Featuring a 16 megapixel rear snapper and a 5 megapixel selfie camera, it is powered by a 1.8 GHz octa-core Snapdragon 810 processor, and a 3,300mAh non-removable battery. Other specs, includes a fingerprint scanner, Type-C USB port, and metal unibody.
On July 27, after the launch of device and actual world usage by the customers, the time will tell whether the haunted ghost will be alive again or not.
Update:-
All these leaked images are taken from a latest video running AnTuTu score. Here is the video-