As we all know, back in July 2016, the creator of One Piece, Eiichiro Oda confirmed that the One Piece manga is almost 65% complete. He confirmed this through a promo newspaper, Dai One Piece Shinbun. Along with this, he revealed that by 2017, One Piece fans will celebrate the 20th anniversary of the series.
One Piece Manga To Be Filled With Surprises In 2017
As 2017 is right around the corner, One Piece fans can definitely expect to see some big new things in the coming weeks. Those who watch the Anime series of One Piece can expect to see a 20th Anniversary Special episode, in which the Straw Hat Pirates will go on a crazy adventure. Along with this, during the recent Jump Festa event, Oda gave fans some hints regarding what will happen in the next 20-25 chapters of the ongoing One Piece arc. He also revealed that the Reverie council of kings and Wano land of the samurai arcs will start next year. So fans can definitely expect to see some exciting new surprises in the coming months.
One Piece Whole Cake Island Arc Update
On the other hand, fans are currently curious about what will happen next after all that happened in One Piece chapter 850. Many questions were answered in that chapter and many secrets were revealed. Carrot and Chopper managed to figure out how to escape from the mirror realm, while Pedro managed to defeat Baron by slicing him up.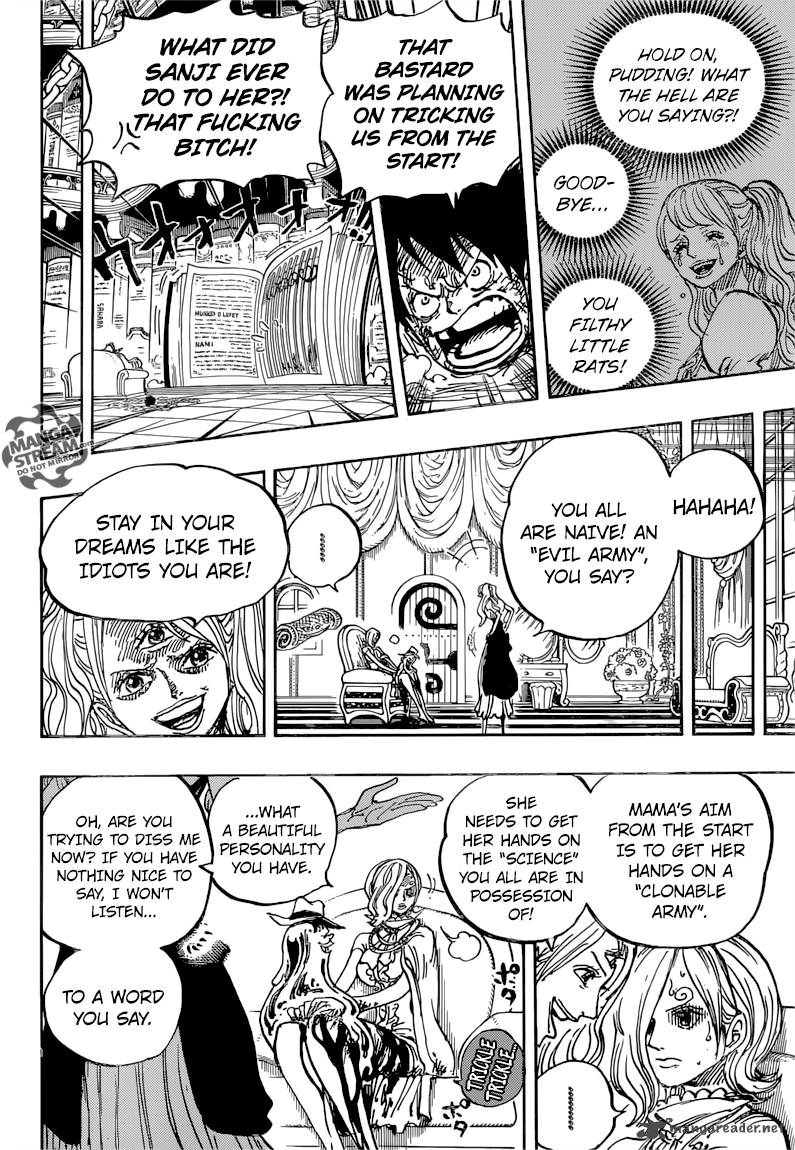 Sanji on the other hand, cooked something special for his fiance, Lady Pudding. He then tried to surprise her, but all of his happiness faded away after he saw Pudding with Reiju. Sanji then decided to find out what they are talking about, so he silently got close to them. He then learned about Pudding's evil personality, along with what Big Mom is planning to do. Sanji got shocked after knowing that Big Mom plans to kill the entire Vinsmoke family to get the clone army under her command.
Pudding Is The Culprit? 
Also, in One Piece chapter 850, pudding said that "everything was going according to plan." This indicated that she is the culprit behind the incident that took place in One Piece chapter 849, meaning that she is the very person who injured Reiju.
Sanji To Stay Behind And Save The Vinsmoke Family 
Now, fans are eagerly waiting to see what Sanji will do. Rumor is that he will prevent Big Mom from wiping out the Vinsmoke family and will stay behind. Luffy and Nami are also expected to join him soon.
Let us know what you think about the future of One Piece in the comments below.