One Piece episode 763 was released a few days ago, meaning that fans are now eagerly waiting for the next one to arrive. The next episode will be an important one as it will reveal Sanji's family along with the fate of Pekoms.
So without any further due, here is a short recap of One Piece episode 763 and spoilers of episode 764.
One Piece Episode 763 Recap
In One Piece episode 763, Capone Bege shoots Pekoms and he falls on the ground. Sanji and Brook get shocked to see him, and then decide to fight him. However, just when the two are about to charge towards him, he opens his chest from where his men come out. It is later revealed that Bege at a devil fruit which converted him into a human castle, so his men can live in it. Sanji and Brook then get surrounded by them, but the two still are determined to fight them. However, Bege's right-hand man, Veto appears with Nami and Ceaser as his hostages. Bege then calls out for Ceaser and tells him to reveal himself. With their comrades in danger, Sanji and the others have no choice but to follow Bege to his castle.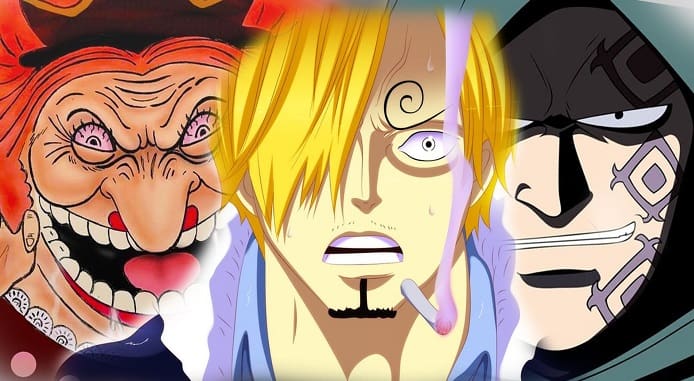 Bege takes them to the dining area, where he shocks everyone by telling that his mission is to capture both Ceaser and Sanji. He gives Sanji an invitation to a tea party of Big Mom, where the wedding of Sanji and Big Mom's daughter will take place. Everyone present in the room was shocked to hear this, and it was later revealed that Sanji is the third son of the Vinsmoke family, making him a prince of the Germa Kingdom. To make things even worse, Bege reveals that Sanji will marry the 35th daughter of Big Mom.
Sanji To Say Farewell In One Piece Episode 764
Sanji refuses to go with him, but Bege states that he has no choice. Now, in One Piece 764, fans will be able to see the moment where Sanji says farewell to his crew. He will write a letter to his captain and the other crew members. Sanji will also use the opportunity to let the others escape. He will hold Ceaser as a hostage and Bege will have no option other than letting the others go. Cat Viper will later chase Bege, but he will manage to escape with Sanji and Ceaser.
Pekoms Is Alive
Along with this, it is said that Pekoms managed to block half of Bege's bullets through his devil fruit powers. So he will be alive.
One Piece Episode 764 release Date
One Piece episode 764 will be released this week. The episode will focus on how Sanji will react after hearing about his arranged wedding.
Let us know if you're excited for One Piece episode 764 or not in the comments below.