One Piece chapter 854 was released a few days ago, meaning that fans are now eagerly waiting for the next chapter to arrive. The previous chapter was a rather important one as in it, Sanji realized the mistakes he made. He finally decided to reunite with his captain, Luffy. Now, it is said that in the next chapter, Sanji and Luffy will finally reunite and the two will then make a plan against Big Mom.
So without any further due, here is what happened in the previous chapter, along with what is expected to happen in the next one.
One Piece Chapter 854 Recap 
At the end of One Piece chapter 854, Sanji was seen preparing a dish for his fiance, Lady Pudding. However, while doing so, he remembered how he used to prepare such dishes for his friends, The Straw Hat Pirates. Shortly after this, one of Big Mom's subordinates grabbed a piece of meat and ate it in a way Luffy used to eat it. This again reminded him of his friends, so the latter decided to leave everything behind and find his friends.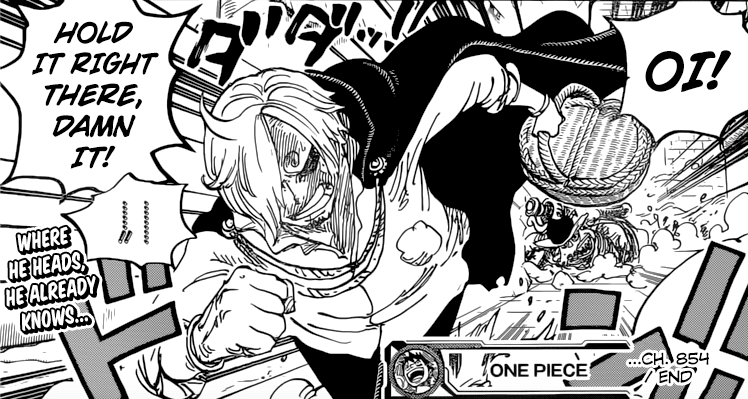 Luffy And Sanji To Reunite In One Piece Chapter 855
Now, it is said that in One Piece chapter 855, Sanji will finally catch up with Luffy. Considering what happened between Sanji and Luffy before, their reunion is definitely going to be an emotional one. Back when Sanji kicked Luffy in the face, his captain decided to go on a hunger strike and promised that he won't eat anything unless it is cooked by Sanji. Currently, speculations are that Sanji will give the bento basket he had in the previous chapter to Luffy, and this will be his way of apologizing for everything he did. Luffy will most probably forget everything and will eat everything included in the basket, through which he will get his strength back.
Sanji To Warn His Family In One Piece Chapter 855
Fans are currently wondering what will Sanji do after he reunites with Luffy. It is said that the latter will ask his captain to help him put a stop to Big Mom's evil plan of killing the entire Vinsmoke family. He will most probably decide to warn his family about what Big Mom is planning to do, and an alliance between The Straw Hat Pirates and The Vinsmoke Family will be then formed.
Also check: Best sites to watch free movies online | best torrent sites
One Piece Chapter 855 Release Date
One Piece chapter 855 is currently scheduled to release next week. Let us know if you're excited about it or not in the comments below.