As we all know, anime series like Bleach and Naruto were filled with filler episodes. Such series feature a lot of non-canon arcs. However, One Piece has always been praised for featuring less filler arcs as compared to other series. Until today, more than 750+ episodes of One Piece have aired, and around 12-15% of them were filler episodes. But it seems that the percentage is about to go up as the series will soon enter a new filler arc.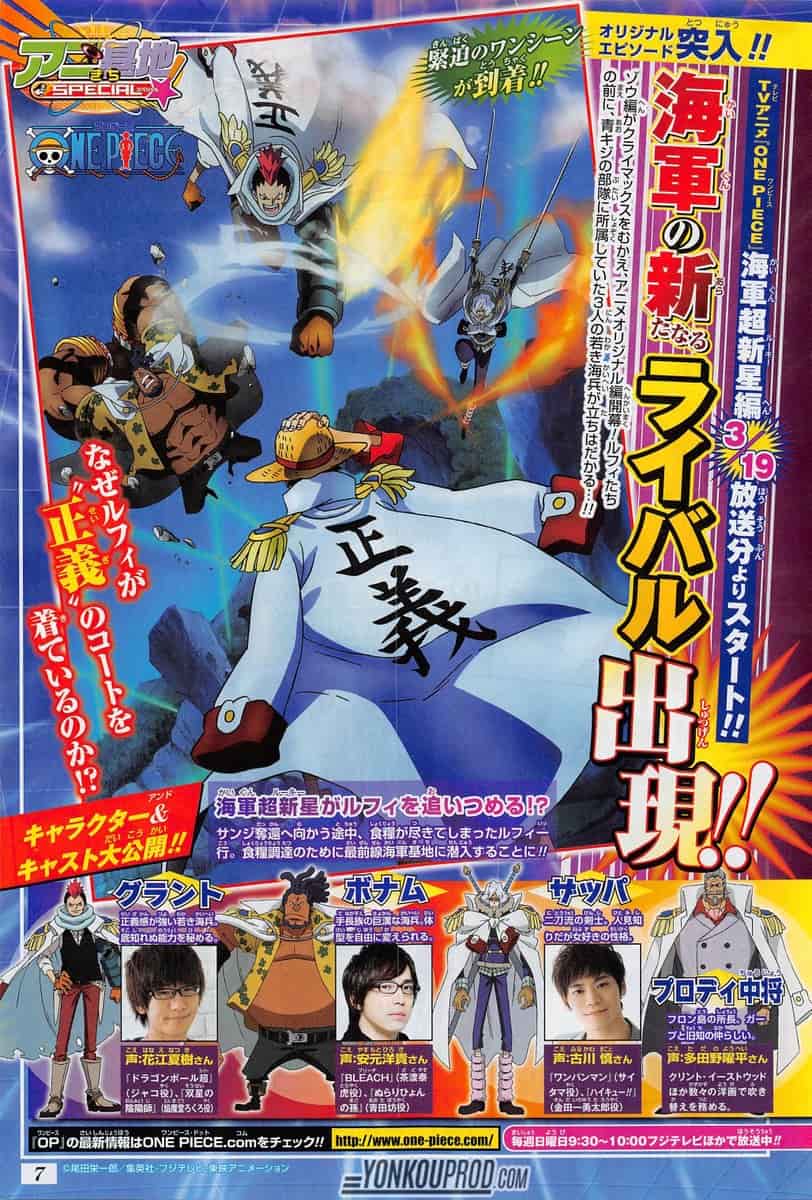 Recently, in the 14th issue of the Weekly Shonen Jump magazine, it was announced that the One Piece anime series is going to enter an original filler arc soon. The new filler arc is titled as "Marine Rookie" and is said to introduce three new Marines. Weekly Shonen Jump also provided some details regarding the story of the upcoming filler arc.
One Piece Marine Rookie Filler Arc Story 
According to the magazine, while on their way to retrieve Sanji from the Whole Cake Island, Luffy and his group will eat all the food they have. Having no food to eat, the group will then search for some supplies. However, they will be lucky enough to find a Marine base and they will try to get some supplies from there. But when they will infiltrate the base, they will be confronted by three new Marines, who are former subordinates of Aokiji. Weekly Shonen Jump also released a key visual for the upcoming filler arc. The visual features Luffy holding off his signature straw hat while fighting against three strong Marines. The new three marines are reportedly named Grant, Bonamu, and Sappa. So fans definitely have something to look forward to in the coming weeks.
One Piece Manga News
As for the manga series, Luffy and Sanji finally got reunited and are currently cooking a plan against Big Mom. They are currently thinking about crashing the wedding, which will take place soon. As Luffy and Sanji are currently not strong enough to go against Big Mom, they are expected to get help from their allies. The Straw Hat Grand Fleet is said to make an appearance soon. The addition of the Grand Fleet will definitely increase Luffy's strength.
One Piece Marine Rookie Filler Arc Release Date 
The brand new filler arc of One Piece anime will air on March 19. The arc will be the thirteenth filler arc of the series. Let us know if you're excited about it or not in the comments below.