As reported by ITHome, At a special event in Asia, Nvidia has officially confirmed the specifications of the GeForce GTX 1060 3GB Variant. With 1151 CUDA cores and a boost clock of 1.7GHz, the TDP remains the same as the 6GB variant – at 120W. So from the specs, it appears that the only difference between the 6GB variant and the 3GB model is the CUDA core count.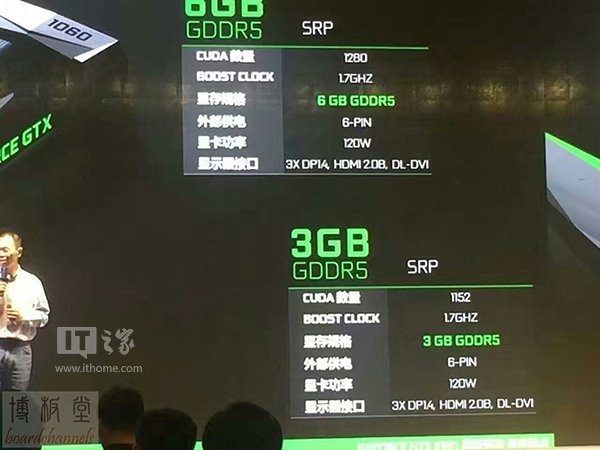 The boost clock will also be similar – at 1.7 GHz. Both variants – the 6GB and 3GB models – feature 3X DP1.4/HDMI 2.08/DVI-D for display connectivity. The cards will require additional 6-pin connector though.
The fact that Nvidia is launching two products with the same model name but with different GPU configs is quite strange. The GTX 1060 6GB variant could have been named GTX 1060 Boost. Instead, now there are two GTX 1060 cards with same name but with different CUDA core count and different frame buffer.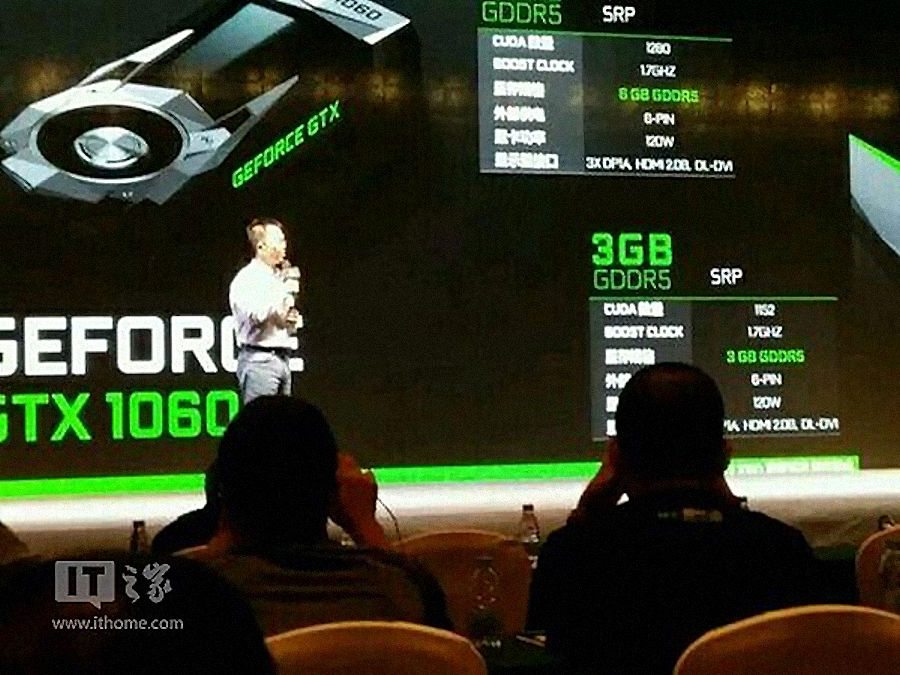 GTX 1060 3GB First Models Revealed
Gainward has already revealed the first models of the GeForce GTX 1060. The pic shows 3GB GDDR5 memory and 192-bit memory bus.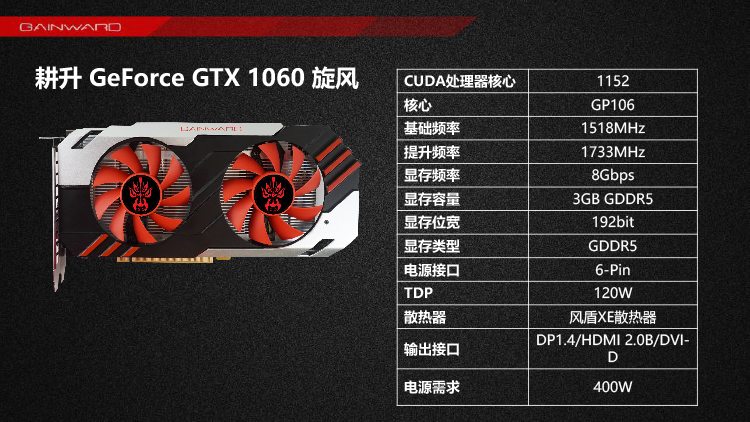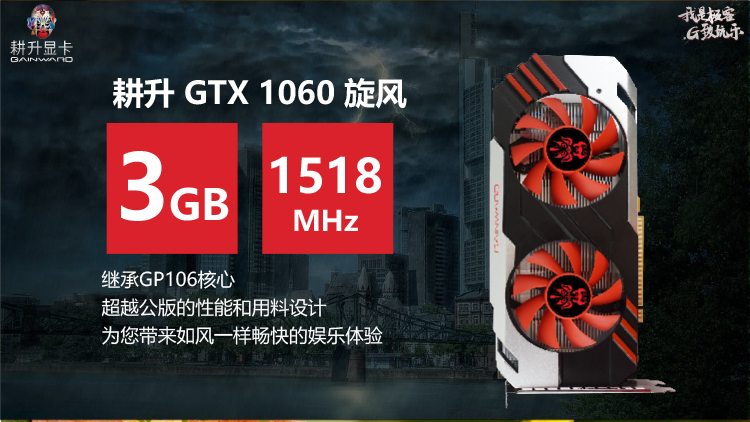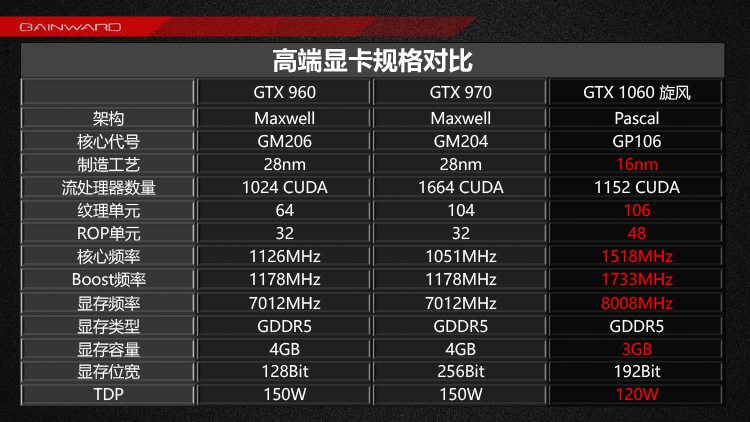 The pic above shows 106 TMUs. This is reported incorrectly. It should actually read 72 TMUs, not 106.
The GeForce GTX 1060 3 GB model will also have NVIDIA SMP Support, NVIDIA ANSEL Support, DirectX 12 / Vulkan API Support and VR-Ready gaming performance, just like the 6 GB variant. The GTX 1060 is likely to be priced close to $199 US. This pricing means it will compete against both RX 480 4 GB and RX 470 custom models.
GeForce 10 Pascal Family Specs –
Graphics Card Name
NVIDIA GeForce GTX 1060 3GB
NVIDIA GeForce GTX 1060 6GB
NVIDIA GeForce GTX 1070
NVIDIA GeForce GTX 1080
NVIDIA Titan X
Graphics Core
GP106
GP106
GP104
GP104
GP102
Process Node
16nm FinFET
16nm FinFET
16nm FinFET
16nm FinFET
16nm FinFET
Die Size
200mm2
200mm2
314mm2
314mm2
471mm2
Transistors
4.4 Billion
4.4 Billion
7.2 Billion
7.2 Billion
12 Billion
CUDA Cores
1152 CUDA Cores
1280 CUDA Cores
1920 CUDA Cores
2560 CUDA Cores
3584 CUDA Cores
Base Clock
1518 MHz
1506 MHz
1506 MHz
1607 MHz
1417 MHz
Boost Clock
1733 MHz
1708 MHz
1683 MHz
1733 MHz
1530 MHz
FP32 Compute
4.0 TFLOPs
4.4 TFLOPs
6.5 TFLOPs
9.0 TFLOPs
11 TFLOPs
VRAM
3 GB GDDR5
6 GB GDDR5
8 GB GDDR5
8 GB GDDR5X
12 GB GDDR5X
Bus Interface
192-bit bus
192-bit bus
256-bit bus
256-bit bus
384-bit bus
Power Connector
Single 6-Pin Power
Single 6-Pin Power
Single 8-Pin Power
Single 8-Pin Power
8+6 Pin Power
TDP
120W
120W
150W
180W
250W
Display Outputs
3x Display Port 1.4
1x HDMI 2.0b
1x DVI
3x Display Port 1.4
1x HDMI 2.0b
1x DVI
3x Display Port 1.4
1x HDMI 2.0b
1x DVI
3x Display Port 1.4
1x HDMI 2.0b
1x DVI
3x Display Port 1.4
1x HDMI 2.0b
1x DVI
Launch Date
Sep-16
13th July 2016
10th June 2016
27th May 2016
2nd August 2016
Launch Price
$199 US?
$249 US
$379 US
$599 US
$1200 US
The GTX 6GB variant features same specs as the desktop but with lower clock speeds. With 1280 CUDA cores, 128 TMUs and ROPs, this variant clocks at 1405 MHz and 1671 MHz boost clock with memory at 8 GHz. The GTX 1060 has high clock speeds during performance tests that definitely exceed its specifications. It can boost up to 1800 MHz while consuming less than 80W. Now that's a really good performance! Although not as great as GTX 980 (mobility), this is fair considering the GTX 1060 is priced lower.
The GTX 6GB and 3GB variant are likely to capture a decent share of graphics card market. Both are priced competitively for the performance that they offer.