Nvidia dropped it's Pascal based Titan X sooner than expected and it has caused a stir, mainly in the scientific community who plan to use it to implement deep-learning algorithms but can this card also be used for regular gaming? At the cost of a whopping $1200 it doesn't look like a lot of gamers would be willing to buy it except those who want the absolute best. And when it comes to the absolute best, the TitanX defeats its competition, including the GTX 1080 Founder's Edition, by a huge mile. Just look at this comparison between the TitanX and 1080 Founder's Edition: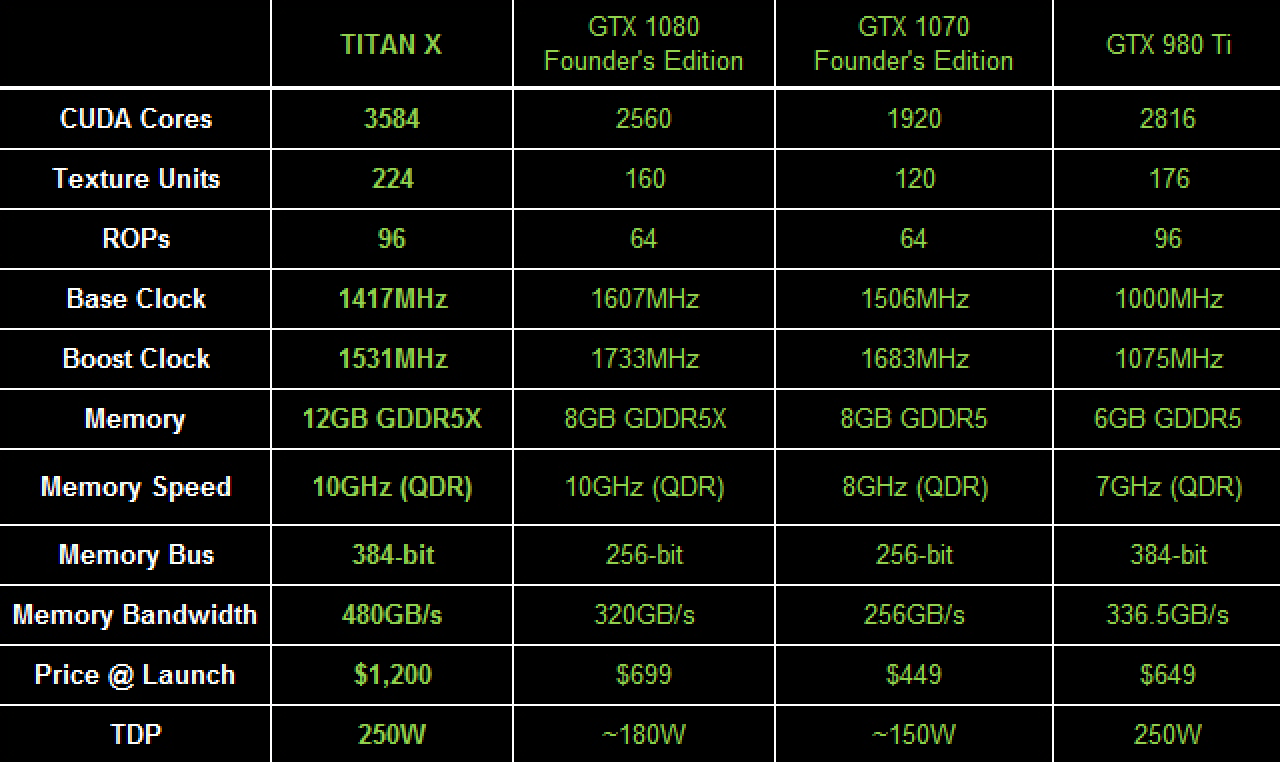 With a staggering 44 teraflops of 8-bit integer throughput, this card is a must for anyone involved in Deep Learning, before that you would have had to spend $6000 more on a Titan P100 to get close to that kind of performance.
Despite the price a lot of gamers would try to get their hands on this instead of 2 1080 in SLI since the raw power of the TitanX would help them overcome any day one driver issues. At the moment the card isn't available at any retail markets or through Nvidia board partners but only through the main Nvidia website (GeForce.com).
The 16 nm GP102 core provides 40% more cores than the GTX 1080 with 22 Texture Units spread across 12 billion transistors. 12GB of GDDR5X operating across a 384-bit memory interface at 10Gbps results in a bandwidth of about 480 GB/s, much higher than GTX 1080's 320 GB/s. This is literally insane but the real world gaming benefits of this would be limited as most games barely show any performance increase above 4 GB and only some would try to go as high as 6 GB.
The new TitanX definitely costs less than two Founder's edition cards and even though Nvidia is marketing it as the TitanX, on the back plate you can see DForce GTX TitanX engraved which could mean they simply recycled from the previous TitanX series. the benchmarks of the TitanX are insane with no game dropping below 60 fps, at 1440p resolution and maximum graphic settings you get the following average fps: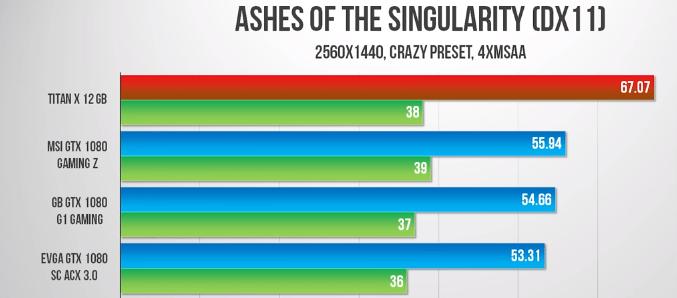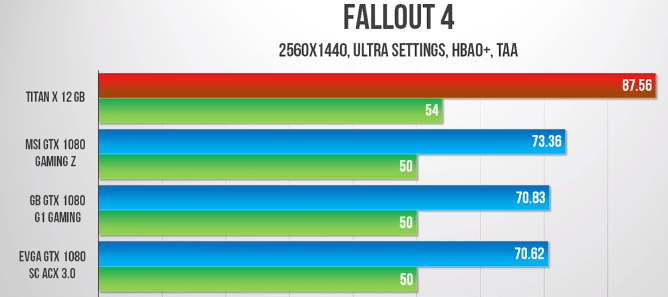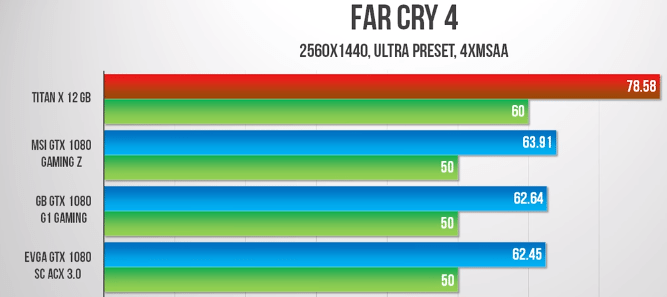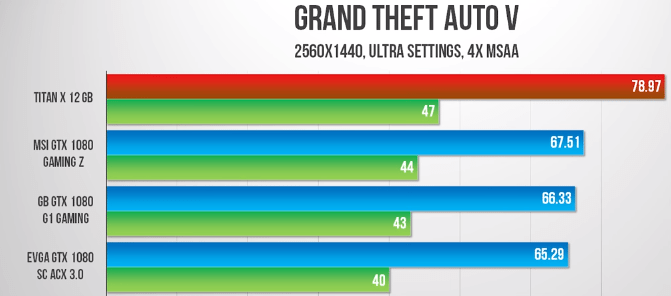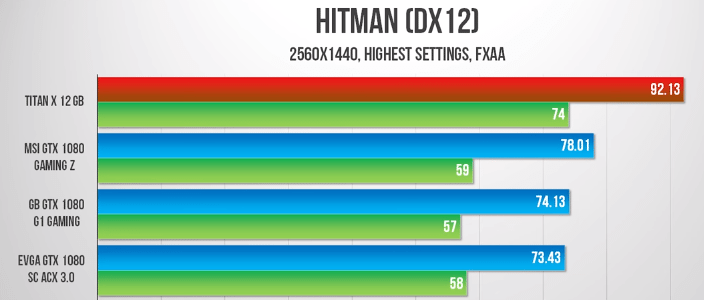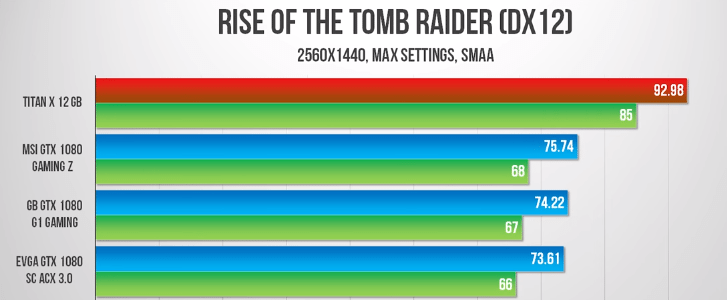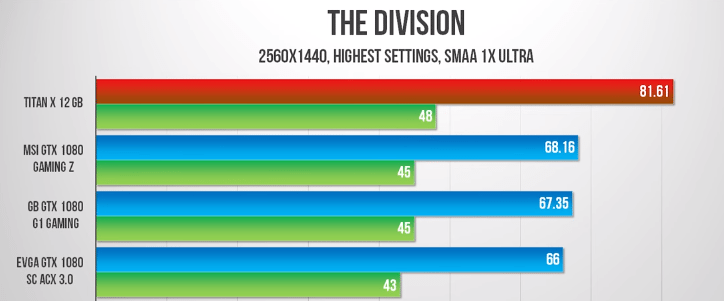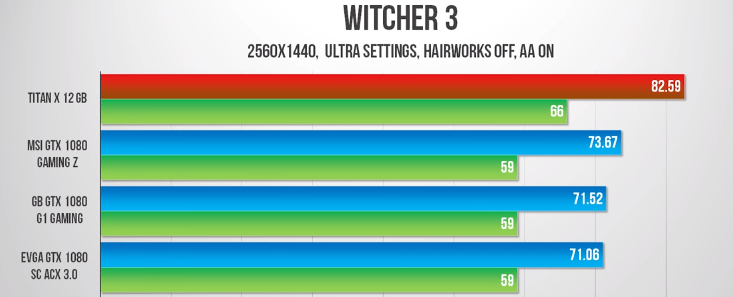 These benchmarks are jaw-dropping. Compared to the Founder's Edition and RX480 it's clear the new TitanX leads the competition by a huge amount. From the looks of it, it appears it will dominate the market for the next 2 to 3 years.