The NVIDIA Tesla M10 graphics card has been launched and comes with a single PCB with four Maxwell GPUs on it. Aimed mainly at Virtual applications and Virtual PCs, it has been designed to support multiple virtual users on one card. This card will mainly benefit remote enterprise users.
So yes, the Tesla M10 is basically Nvidia's effort to provide the maximum number of virtual users on one graphics card. The graphics card manufacturer has signed deals with various virtualization companies for offering remote desktop sessions at $2 per month, while $6 per month will give you virtual PCs.
We have had good success with our GPUs in high-performance computing, deep learning in hpc, deep learning, data analytics, remote work stations," said McHugh, a former Cisco executive who joined Nvidia six months ago. "Now we have VDI and app virtualization. We are changing the economics for graphics-accelerated virtualization. via VentureBeat

While the need for advanced GPU technology has commonly been associated with the usage of 3D applications, as enterprises make the move to software like Windows 10, Office 365, and other SaaS and web apps, IT departments will increasingly seek the benefits of GPU acceleration to provide everyday business tools to all of their users, "said Robert Young, analyst for IT Service Management and Client Virtualization Software at IDC, in a statement.\
The NVIDIA Tesla M10 graphics card specs include a large, single PCB based on the trusted Maxwell architecture. A GM107 SKU has been used, and each GPU comes with 8GB DDR5 memory and 640 CUDA cores. So summing them all gives us the graphics card with 32GB GDDR5 memory and 2560 CUDA cores on just one board. 225W TDP passive cools the GPU, and the power comes via one 8-Pin connector.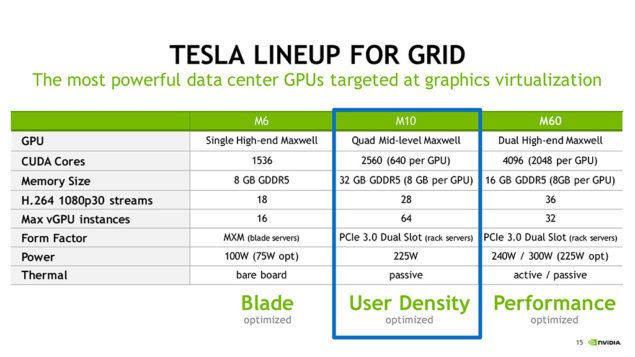 Designed to site on dense rack servers, the GPU can provide up to 64 Virtual GPU instances and up to 28 30 FPS streams at H.264 1080p. Every one of those users can have 512 MB of VRAM with vGPU. The pricing of the Tesla M10 is still not out, but it is rumored that it will cost a few thousand dollars.