Nvidia Shield is an interesting mix of a game console and a way for Nvidia to show off Tegra 4. The shield is big. Best way to describe is to attach a folding screen to an Xbox 360 controller. It has nearly all the same buttons as the Xbox 360 controller. Because of that it feels rock solid when gaming. Everything from the triggers to the thumb sticks feels like top notch console quality.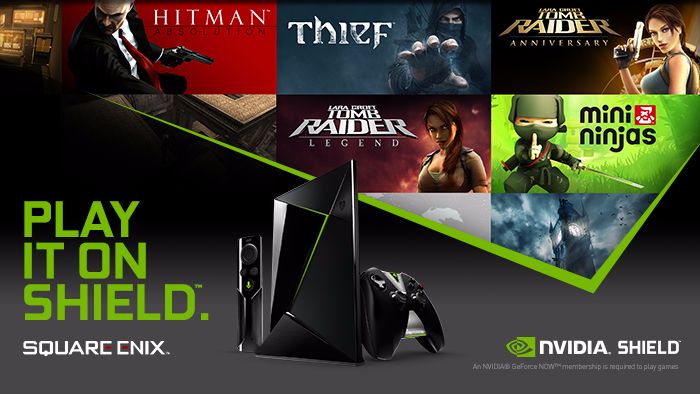 Nvidia Shield five new membership titles coming
"Connect your SHIELD to GeForce NOW and stream a library of popular PC games at up to 1080p at 60 FPS.

Members can instantly stream more than 50 popular PC games and purchase new releases from the store. See why GeForce NOW is the best game streaming service."
You can check out Nvidia Shield website for more info on this. The games arriving to the console include Hitman Absolution and four more. Hitmna will be arriving to the Shield first. Thief, Mini Ninjas, Tomb Raider: Anniversary, and Tomb Raider: Legend will be releasing throughout the year.
Design-wise, the Shield reminds us of old-school Xbox controllers. The D-Pad works really well for fighting games and scrolling. Meanwhile, the buttons mash pretty well.
The Shield Portable is a handheld game console by Nvidia, released on July 31, 2013.
Shield Portable runs on Android Lollipop 5.1, featuring a flip-up 130 mm (5-inch) touchscreen display with 1280×720 pixel resolution. The device is similar in shape to an Xbox 360 controller and similar in control setup to a DualShock controller, with two analog joysticks, a D-pad, and other buttons. It is the first device to use Nvidia's Tegra 4 processor. It was originally called Shield or Nvidia Shield, but since the launch of the Shield Tablet, it is called the Shield Portable.
Let us know your thoughts on the new titles in the comments. What other titles do you want on the Shield? Let us know in the comments.