The wait is finally over and it won't be long when you can experience the same graphics performance that the desktop version of NVIDIA GeForce GTX 10 series of graphic chips are able to deliver. According to sources close to the matter, the company's Mobile Pascal GPU family is going to be announced during Gamescom 2016. The event is going to be held from August 17 to August 21, so we'll have all the updates for you then. For now, let us take a look at the differences between the desktop versions and the versions that will start to appear in gaming notebooks soon.
For the mobile version of GTX 1080, there is very little information, but we know for a fact that the clock speeds are going to be running at a lower rating that the desktop version in order to lower the TDP value considerably. The mobile version of this GPU is said to be soldered on a custom PCB, thus reducing the power consumption even further. While we'll have all the info for you once the event kicks off, what surprised us the most were the specifications of the upcoming GTX 1070 for mobile machines. If you didn't pay attention to the specifications, then you will know them soon enough in the comparison list below:
GTX 1080 for mobile
CUDA cores: 2048
ROPs: 64
GPU clock speed: 1443MHz
Boost clock speed: 1645MHz
Memory clock speed: 8008MHz
Video RAM: 8GB GDDR5
GTX 1080 for desktop
CUDA cores: 1920
ROPs: 64
GPU clock speed: 1506MHz
Boost clock speed: 1683MHz
Memory clock speed: 8008MHz
Video RAM: 8GB GDDR5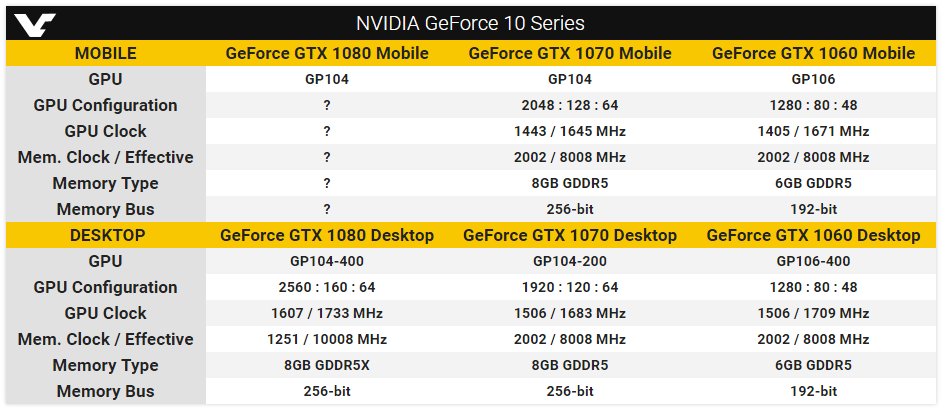 GTX 1070 for mobile will actually have more CUDA cores than the desktop version, while running at slightly lowered clock speeds to conserve power. Unfortunately, one disappointing thing about these mobile counterparts is that all of the memory chips will be based on the GDDR5 standard and not GDDR5X, which means lowered memory bandwidth. Regardless, getting to experience the same level of performance on both desktop and laptop systems is an event that we've been wanting to see for a long time, and at Gamescom, we believe that our dreams will definitely come true.