4K gaming benchmarks for Nvidia's newest flagship GPU the GeForce GTX 1080 have been published by a famous Chinese overclocker. The benchmarks include GTA 5, Just Cause 3, Dark Souls 3 & Witcher 3 where the GTX 1080 delivered performance that's significantly ahead of the GTX 980 Ti.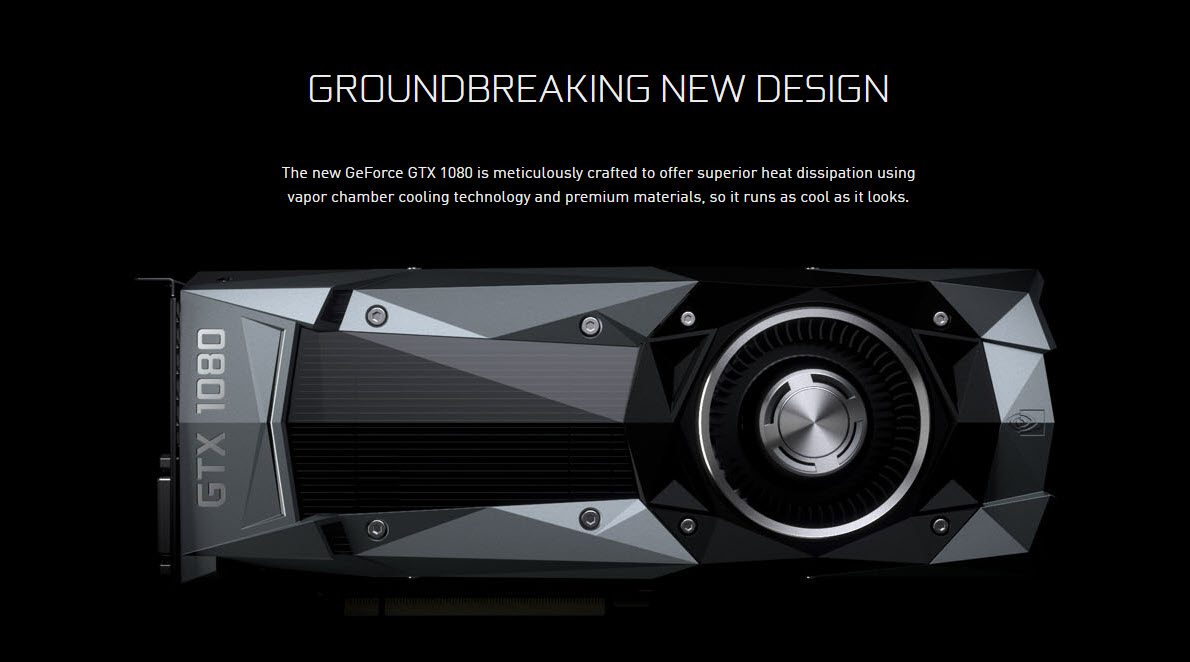 NVIDIA GeForce GTX 1080 4K Gaming Benchmarks Revealed
So let's get straight to the benchmarks. They've been done in video form so we've embedded the video below for your convenience. The video was uploaded by famous Chinese overclocker Uing07. The results are of a heavily overclocked GTX 1080 – over 2000mhz – vs a stock GTX 980 Ti.
"Uing07 :
Oculus The GTX 1080 and GTX 980Ti game testing (4K, Ultra Setting) test items: Just Cause 3, GTA 5, Dark Souls 3, Witcher 3; Test results GTX 1080 is 49% stronger than the 980Ti, and the actual game scenes not the same, the data for reference only."
The video shows a large performance delta in favor of the Oced GTX 1080 vs the stock GTX 980 Ti of somewhere around 49% on average. According to Nvidia's official marketing material the GeForce GTX 1080 at stock will be roughly 20% faster than the GTX 980 Ti and the GTX 1070 will be slightly faster than reference GTX 980 Ti cards and on par with factory overclocked variants. The recorded gameplay segments for the GTX 1080 and GTX 980 Ti are slightly different which accounts for some the variability we're seeing.
Despite the fact that we believe the source is legitimate we have to issue a note of caution as there's absolutely no way to verify these results as of yet. so please remember to take these figures with a healthy dose of skepticism until thorough independent reviews of the GTX 1080 become available on May 17th.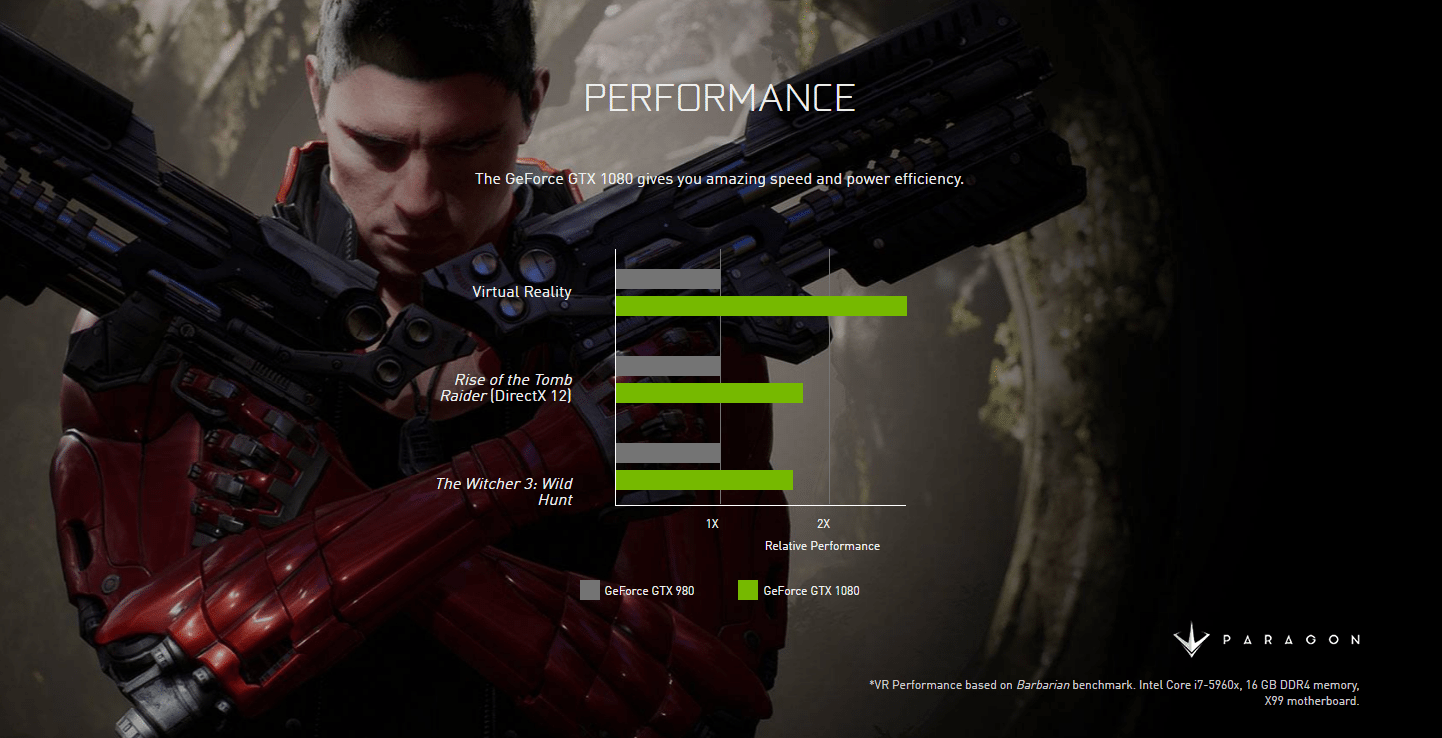 Nvidia GeForce GTX 1080 Founder's Edition Cards Launching May 27th For $699, Custom Variants Coming In June For $599
It has only been a few days since the GeForce GTX 1080 was announced by Nvidia during a special event that was live streamed online. The GeForce GTX 1080 "Founder's" edition will officially launch on May the 27th for $699, with custom variants from Nvidia's board partners launching sometime later for $599.
| Graphics Card | GTX 980 | GTX Titan X | GTX 1070 | GTX 1080 |
| --- | --- | --- | --- | --- |
| GPU | GM204 | GM200 | GP104 | GP104 |
| Manufacturing Process | 28nm | 28nm | 16nm | 16nm |
| Transistors | 5.2 Billion | 8 Billion | 7.2 Billion | 7.2 Billion |
| CUDA Cores | 2048 | 3072 | TBA | 2560 |
| Memory | 4 GB GDDR5 | 12 GB GDDR5 | 8 GB GDDR5 | 8 GB GDDR5X |
| Memory Bus | 256-bit bus | 384-bit bus | 256-bit bus | 256-bit bus |
| TDP | 165W | 250W | 150W | 180W |
| Launch Date | September 2014 | March 2015 | 10th June 2016 | 27th May 2016 |
| Launch Price | $549 | $999 | $449 (Founder's Ed) | $699 (Founder's Ed) |
The "Founder's" edition is just the name that Nvidia decided to give to the reference designed card, featuring the blower fan and the metallic shroud. Many gamers found this quite bizarre as the reference designed cards are usually the least sought after due to their higher noise output, higher temperatures and lower clock speeds. Nvidia's decision to market the reference design as a premium option very likely stems from the initial limited availability of the card, so the $100 premium will as an early adopters tax for the time being. Until Nvidia's board partners launch their own custom versions of the GTX 1080 at $599 later on.
Reviews for the GTX 1080 will go live on May 17th, 10 days before the Founder's edition GTX 1080 is made available for purchase. The GTX 1070 Founder's edition will launch June 10th for $449, with the board partner cards launching later for $379. The embargo date on GTX 1070 reviews hasn't been revealed as of yet, but it will likely precede the June 10th date by at least a week similar to the GTX 1080.
Both Galax & Gigabyte have teased their custom GTX 1080 graphics cards which will be launching this June. Galax is seemingly coming out with an entirely new design while Gigabyte is launching an XTREME GAMING version of the GTX 1080.
Yesterday we also covered the first ever official DirectX 12 benchmarks for the GTX 1080. Which showed it 9% to 13% ahead of the GTX 980 Ti and R9 Fury X in Ashes of The Singularity At 1920×1080 and 2560×1440. We've also detailed the GTX 1080's DirectX 12 Async Compute capability that's enabled by the new Pascal architecture. If you're looking to learn more about the Pascal architecture itself beyond just Async Compute we'd highly recommend checking out our deep-dive article into the architecture.
We'll keep you up to date with the latest GTX 1080 and GTX 1070 news, rumors and leaks. So Stay tuned!